Per Diem Plus FLEETS Automates Per Diem For Samsara Customers
---
Per Diem Plus, the pioneer of mobile app transportation per diem solutions, today announced a new API integration available on the Samsara App Marketplace. The integration is in response to industry demand and is part of our continued strategy to provide customers with best-in-class, IRS-compliant per diem solutions. By integrating vehicle data from Samsara, customers streamline administration of their per diem program and increase efficiency as a result.
---
---
"Trucking is the backbone of the American economy. The increasing demands for shipped goods and a shortage of drivers to deliver them compels motor carriers to leverage every productivity gain. We introduced the PDP Fleets mobile app platform in 2018 to introduce efficiency to the time-consuming task of tax compliance for truck drivers, fleets and accounting professionals," explained Mark Sullivan, program manager and tax counsel at Per Diem Plus. "Our API integration streamlines the per diem management process, for it's all about savings customers time and money."
---
---
---
Solution description:
Per Diem Plus FLEETS is a mobile application enterprise platform that automates administration of an IRS-compliant accountable trucker per diem plan for long-haul drivers and fleet managers.
Integration:
Per Diem Plus FLEETS is integrated with Samsara through an API that uses the GPS gateway to capture location data. Data is uploaded to the PDP cloud to establish qualifying per diem events. A tile-link URL allows drivers to view a Trip Summary of per diem earned on their current trip.
5 Minute Setup:
Contact Per Diem Plus at api.support@perdiemplus.com to create a fleet account with the following information;

Payroll report frequency, i.e., Weekly, Sun-Sat

Email address or FTP site where automated reports are to be sent

Define geofence radius (5, 10, 15 or 25 miles)

Contact information and email addresses for fleet manger's

Login to your Per Diem Plus account and enter Samsara API key
Per Diem Plus will sync driver roster with the Samsara ELD database, which is displayed on the Fleet Manager dashboard.
Per Diem Plus will start receiving location data to automatically calculate per diem for fleet drivers.
Driver Insight:
A tile link URL allows drivers to view earned per diem for their current trip.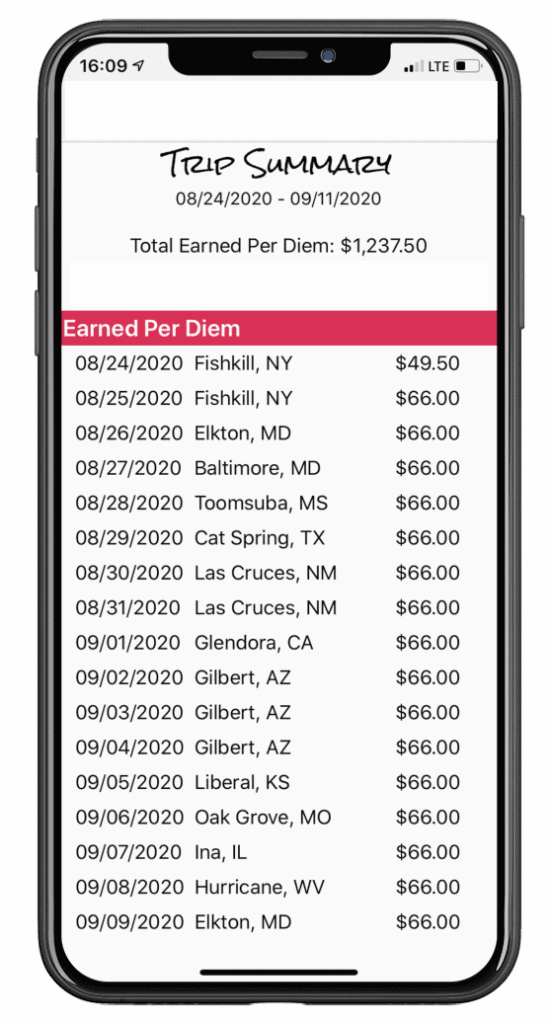 ---
---
CASE STUDY: One fleet with 85 company drivers was able to save $255,000 in the first year and increase driver pay by $0.04 per mile by leveraging FLEETS.
---
About Per Diem Plus
Per Diem Plus was born over our 25 years of experience as agents and tax practitioners and a relentless pursuit to introduce efficiency to the time-consuming task of tax compliance for truck drivers, fleets and their accounting professionals. The Per Diem Plus® FLEETS mobile application platform enables motor carriers to easily implement an IRS-compliant fleet per diem program in hours that is scalable and data plan friendly. Per Diem Plus was designed, developed and is managed in the USA and is the only IRS-compliant mobile application that provides automatic trucker per diem for solo and team drivers traveling in the United States and Canada. For more information, visit www.perdiemplus.com
---
Copyright 2021 Per Diem Plus, LLC. Per Diem Plus proprietary software is the trademark of Per Diem Plus, LLC.®