The IRS has released the tax brackets and special trucker per diem rates for 2022
Trucker Per Diem Rates
The 2022 special trucker per diem rates for taxpayers in the transportation industry increased $3 from 2020-2021 to $69 for any locality of travel in the continental United States (CONUS) and $74 for any locality of travel outside the continental United States (OCONUS). See section 4.04 of Rev. Proc. 2011-47 (or successor).
---
Related Articles
Per Diem Plus Announce New API Integration With Samsara
---
Use our Fleet Per Diem Benefit Calculator to learn how much your fleet can save with Per Diem Plus Fleets.
---
Standard Deduction & Personal Exemption
The standard deduction for single filers will increase to $12,950, $25,900 for married filing jointly, and $19,400 for head of household.
The personal exemption for 2022 remains at $0 (eliminating the personal exemption was part of the Tax Cuts and Jobs Act of 2017 (TCJA)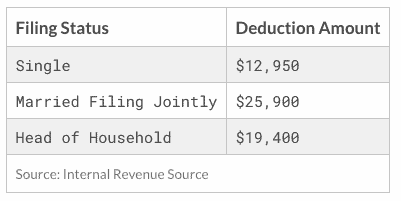 2022 Tax Brackets
In 2022, the income limits for all tax brackets and all filers will be adjusted for inflation and will be as follows. The top marginal income tax rate of 37 percent will hit taxpayers with taxable income of $539,900 and higher for single filers and $647,850 and higher for married couples filing jointly.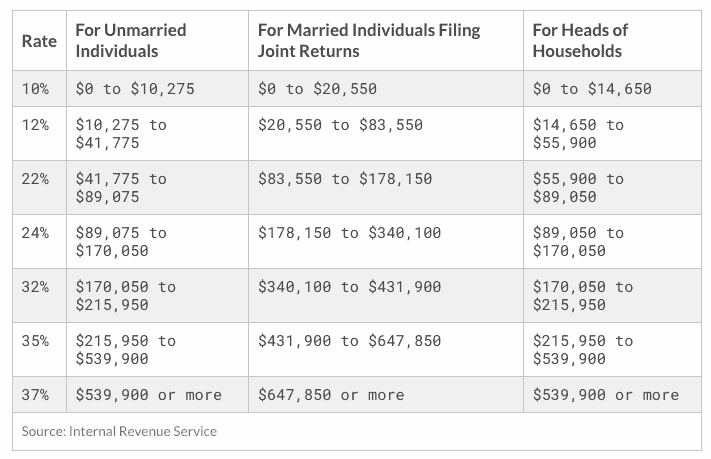 Qualified Business Income Deduction (Sec. 199A)
The Tax Cuts and Jobs Act includes a 20 percent deduction for pass-through businesses up to $170,050 and $340,100 for joint filers.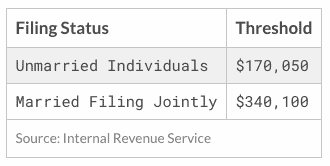 Child Tax Credit
The maximum Child Tax Credit is $2,000 per qualifying child and is not adjusted for inflation. The refundable portion of the Child Tax Credit is adjusted for inflation and will increase from $1,400 to $1,500 for 2022.
Earned Income Tax Credit
The maximum Earned Income Tax Credit (EITC) in 2022 for single and joint filers is $560 if the filer has no children (Table 5). The maximum credit is $3,733 for one child, $6,164 for two children, and $6,935 for three or more children.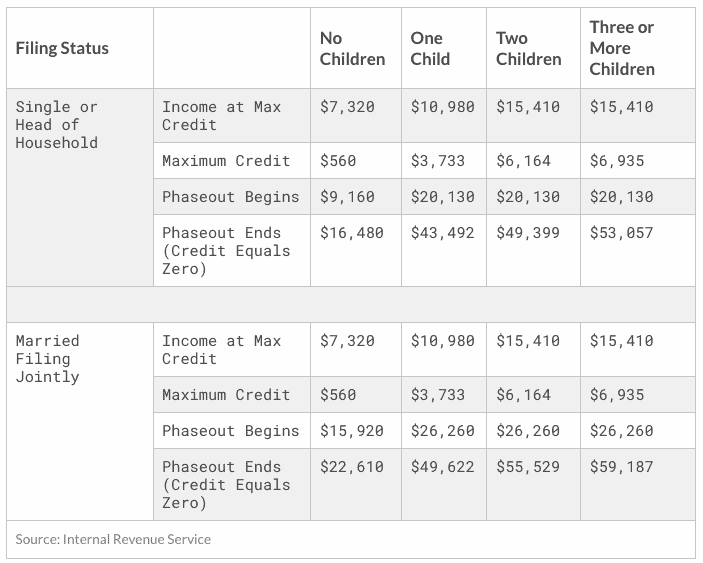 100% Deduction for Trucker Per Diem in NEW COVID-19 Pandemic Relief Package for 2021 and 2022
---
The 2020-2021 per diem rates can be found HERE
---
Get in touch with the experts at Per Diem Plus today to discuss a smooth rollout for your system.
---
---
About Per Diem Plus
Per Diem Plus is a proprietary mobile software application that was designed by truckers and built by tax pros. It is the only IRS-compliant mobile app for iOS and Android that automatically tracks each qualifying day of travel in the USA & Canada and replaces ELD backups (logbooks) to substantiate away-from-home travel.
---
Disclaimer: This article is for information purposes only and cannot be cited as precedent or relied upon in a tax dispute before the IRS.
Copyright 2021 Per Diem Plus, LLC. Per Diem Plus proprietary software is the trademark of Per Diem Plus, LLC.®
---
Source: "2022 Tax Brackets", Erica York, Tax Foundation (11/10/21)