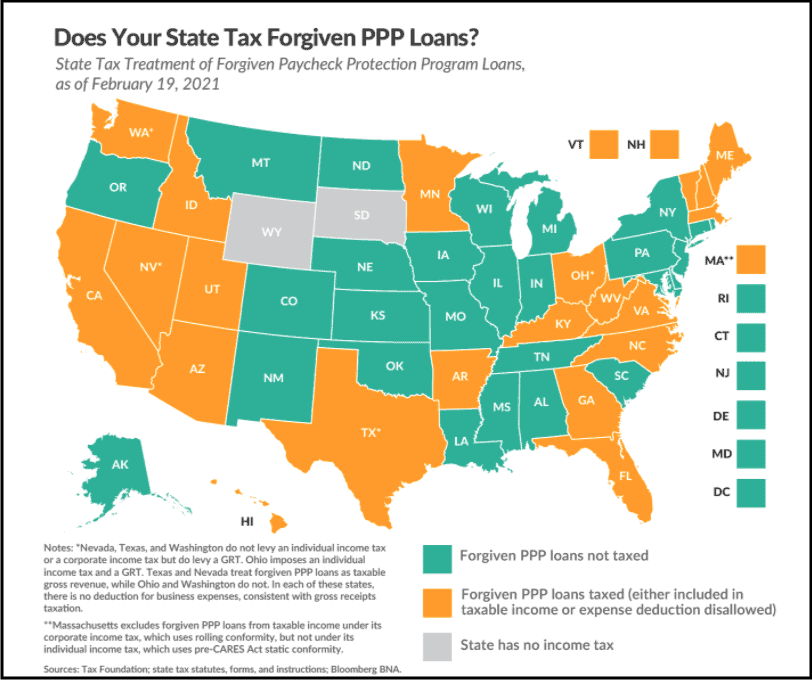 ---
---
Does your state tax forgiven PPP loans?
Did you receive a Paycheck Protection Program Loan (PPP) in 2020 to keep your small trucking company from going under? Did you use the loan proceeds for qualifying purposes, like payroll costs, mortgage interest payments, rent, and utilities? The good news is your loan should be forgiven AND it will be exempt from federal taxation. The bad news is that many states do not conform to the federal tax code and will tax them by either treating forgiven loans as taxable income, denying the deduction for expenses paid for using forgiven loans, or both. The Tax Foundation map below and (click HERE to view state-by-state table show states' tax treatment of forgiven PPP loans.
---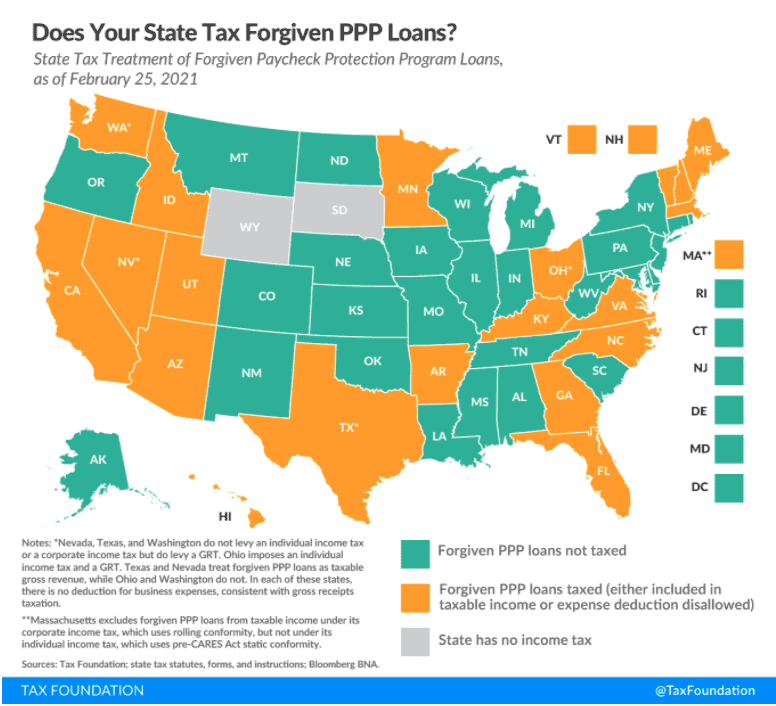 Fortunately several states that currently tax forgiven PPP loans, including Arizona, Arkansas, Hawaii, Maine, Minnesota, New Hampshire, Virginia, and Wisconsin, bills have been introduced to prevent such taxation.
If you received a PPP loan, and with tax deadlines fast approaching, you should consult with your tax advisor to determine if you will incur a state tax liability for the forgiven loan.
---
About Per Diem Plus
The Per Diem Plus® - Owner Operators is the only IRS-compliant mobile application that provides automatic trucker per diem and travel-related expense tracking for drivers, motor carriers and owner operators. Per Diem Plus was designed, developed and is managed in the USA.
---
This article was written by Mark W. Sullivan EA, Tax Counsel for Per Diem Plus, who has over a decade of experience advising trucking companies on per diem issues. Prior to starting a private practice in 1998, Mr. Sullivan was an Internal Revenue Officer with the New York, NY, Saint Louis, MO and Washington, D.C. offices of the Internal Revenue Service. Questions? Contact Mark W. Sullivan, EA.
Copyright 2021 Per Diem Plus, LLC. Per Diem Plus proprietary software is the trademark of Per Diem Plus, LLC.®
Disclaimer: This article is for information purposes only and cannot be cited as precedent or relied upon in a tax dispute before the IRS.