Per Diem Plus® FLEETS, a mobile application platform that automates per diem tax compliance for motor carriers, today announced a new integration with Transflo. The deep link is a configurable integration that enables drivers to navigate between the Transflo Mobile dashboard and Per Diem Plus FLEETS app creating an enhanced user experience.
---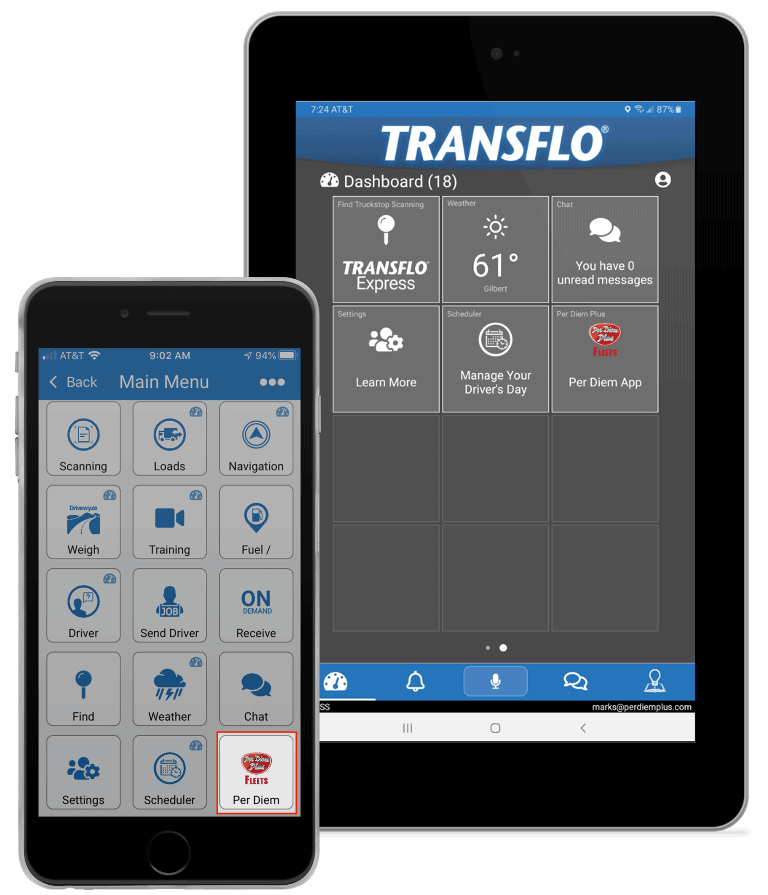 ---
With over $40 million of per diem claimed and 5 years of reports accepted by the IRS, adding an accountable, substantiated per diem program is a sure-fire way for a motor carrier to increase driver take home pay and save money. Consider the following:
The typical over-the-road (OTR) driver averages 127,500 miles annually and is away from home 280 nights a year.
280 nights equals $18,480 of tax-free per diem at $66/day.[1]
Substantiated per diem can be earned during HOS-mandated 34-hour restarts and unforeseen delays like detention, breakdowns, or weather.
The average driver will save thousands of dollars in taxes, equivalent to several cents per mile.
Our cloud-based platform enables motor carriers to implement an IRS-compliant fleet per diem plan that is:
Easy to Setup: An IRS-compliant mobile application platform that allows for rapid deployment with minimal investment in dollars and/or IT resources.
Easy to Use: Just drive! Trip Summary lets drivers know when they earned per diem.
Flexible: Supports individual and team drivers operating both ELD-exempt and non-exempt vehicles.
Streamlines Tax Compliance: Say "Goodbye" to ELD backups! Receive automated IRS-compliant fleetwide per diem payroll reports.
Case Study: One fleet with 85 company drivers was able to save $255,000 in the first year and increase driver pay by $0.04 per mile by leveraging FLEETS.
---
[1] The Special Trucker Per Diem rate is established by the Internal Revenue Service in an annual notice. See IRS Notice 20-70
About Transflo
Transflo®, a Pegasus TransTech company, is a leading mobile, telematics, and business process automation provider to the transportation industry in the United States and Canada. Transflo's mobile and cloud-based technologies deliver real-time communications to fleets, brokers, shippers, and commercial vehicle drivers, and digitize 800 million shipping documents a year, representing approximately $84 billion in freight bills. Organizations throughout the Transflo client and partner network use the solution suite and digital platforms to increase efficiency, improve cash flow, and reduce costs. Headquartered in Tampa, Florida, USA, Transflo is setting the pace for innovation in transportation software. For more information, visit www.transflo.com.
About Per Diem Plus
Per Diem Plus was born over our 25 years of experience as agents and tax practitioners and a relentless pursuit to introduce efficiency to the time consuming task of tax compliance for truck drivers, fleets and their accounting professionals. The Per Diem Plus® FLEETS mobile application platform enables motor carriers to implement an IRS-compliant fleet per diem program in hours that is scalable and data plan friendly. Per Diem Plus was designed, developed and is managed in the USA and is the only IRS-compliant mobile application that provides automatic trucker per diem and travel-related expense tracking for travel in the United States and Canada for drivers, motor carriers and owner operators. For more information, visit www.perdiemplus.com
---
Copyright 2021 Per Diem Plus, LLC. Per Diem Plus proprietary software is the trademark of Per Diem Plus, LLC.®