Designed by drivers. Built by tax pros.
Drivers have spoken! Based on user feedback Per Diem Plus introduces Small Fleets, which enables drivers to customize settings and automate features within the Per Diem Plus mobile app.
Features include:
Schedule automated per diem reports - weekly, bi-monthly, monthly

Add multiple recipients for automated per diem reports, i.e., spouse or accountant

Select tax home geofence: 5, 10, 15, 20 or 25 air-miles
Record per diem for both team drivers on one device with a single login
Enable automatic "Auto-Trip" as the default setting
Enhanced security with two-factor authentication, unique Fleet code and Driver ID login
Easily switch between mobile devices and Android & iOS OS
Fully Automated:
Small Fleets will automatically track each qualifying day and partial day of travel away from home in the US and Canada.
Eliminate the need to retain ELD backups for 3 years to substantiate per diem
Native Android & iOS Mobile App
Supports solo and team drivers with single user login
GPS / KML per diem IRS audit-trace reports
4-Year cloud-based data retention policy
Manage subscription through perdiemplus.com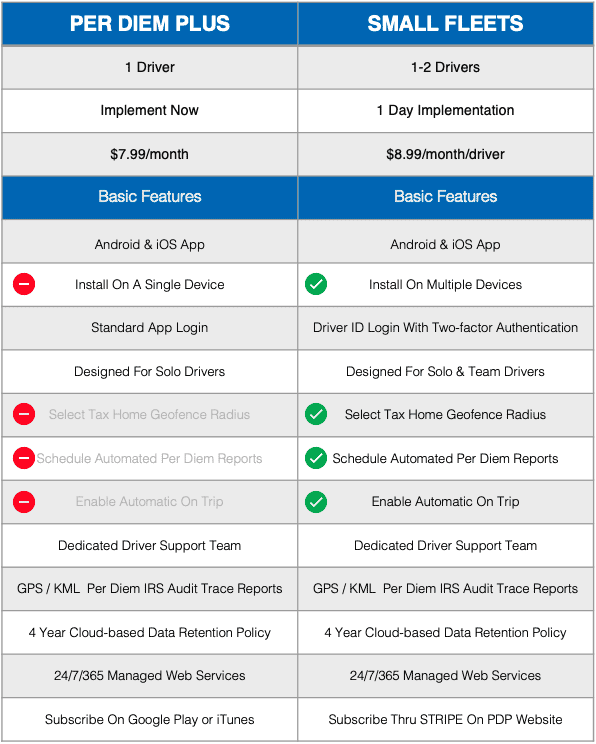 ---
Drivers, try Per Diem Plus Small Fleets absolutely free for 30 days!
PDP Small Fleets requires users to complete the account setup HERE before using the app.
---
IRS-Compliant: Per Diem Plus® is the only IRS-compliant, mobile-enabled application for iOS and Android that automatically tracks each qualifying day of travel in the USA & Canada to substantiate away-from-home travel for solo and team drivers.
GPS-Based Tracking: Per Diem Plus utilizes a devices GPS to establish IRS-required "time, date and place" substantiation to prove away-from-home travel
Proven: Drivers have logged millions of miles using Per Diem Plus! Join those that value their time, love to eliminate inefficient paperwork, and want to simplify tax compliance and save money.

Easy Setup: An IRS-compliant cloud-based mobile app platform that allows for rapid deployment.
Secure Login: Two-Factor authentication with fleet code and driver ID login.

Data Plan Friendly: The average user on the road for a month will use less than 50MB per month.
---
About Per Diem Plus
---
Disclaimer: This article is for information purposes only and cannot be cited as precedent or relied upon in a tax dispute before the IRS.
Copyright 2023 Mark Sullivan Consulting, PLLC; Per Diem Plus, LLC. Per Diem Plus proprietary software is the trademark of Per Diem Plus, LLC.®