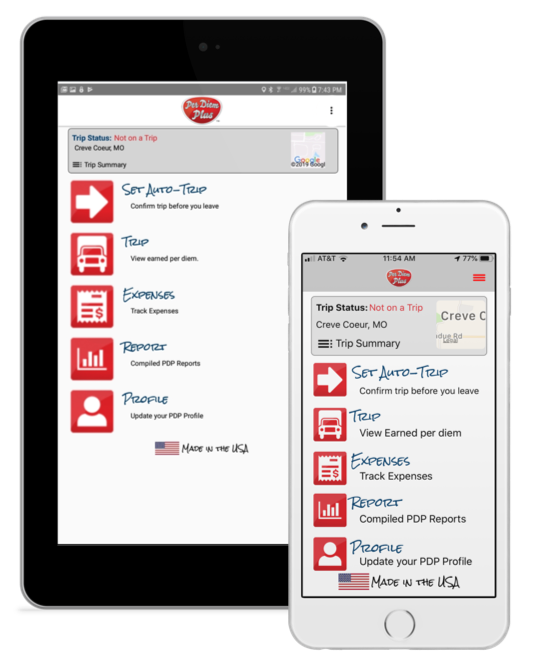 ---
Big News! Per Diem Plus Announces API Integration for Samsara
---
Trucker per diem simply explained
What is per diem? A per day travel expense allowance. Eliminates the need for proving actual costs for meals & incidental expenses incurred.
Do I have to spend all the per diem?
No. This is the maximum amount the IRS will let you claim on your tax return.
Who can claim trucker per diem?
Self-employed truckers who are subject to DOT HOS and who travel away from home overnight where sleep or rest is required. The Per Diem Plus mobile app software takes the guesswork out of tracking trucker per diem for OTR truckers.
As of January 1, 2018 employee (company) drivers can no longer claim per diem on their Form 1040, US Income Tax Return, as an itemized deduction on Schedule A.
Can all truck drivers receive per diem?
No. Drivers who start and end a trip at home on the same DOT HOS 14-hour work day cannot claim per diem.
What qualifies as a tax home?
Where you park your truck. Your regular place of business, or home in a real and substantial sense.
Can I claim per diem if I live in my truck?
No. A taxpayer who's constantly in motion is a "tax turtle," or someone with no fixed residence who carries their "home" with them.
Can truck drivers claim a mileage allowance per diem?
No. Only fleets can use a cents-per-mile per diem. IRS' standard mileage allowance is for use of a personal vehicle.
Can a driver claim per diem for lodging?
No. You must have a receipt for all lodging expenses. A self-employed driver falls under the related party rules of IRC 267(b) & Rev. Proc 2011-47.6.07 and, therefore, cannot use per diem substantiation that includes a meals and lodging per diem.
IRS per diem substantiation requirements
What documentation meets the IRS substantiation requirements to prove overnight travel and expense?
Only Per Diem Plus or DOT ELD backups with an itemized log listing "time, date & place" for each per diem event.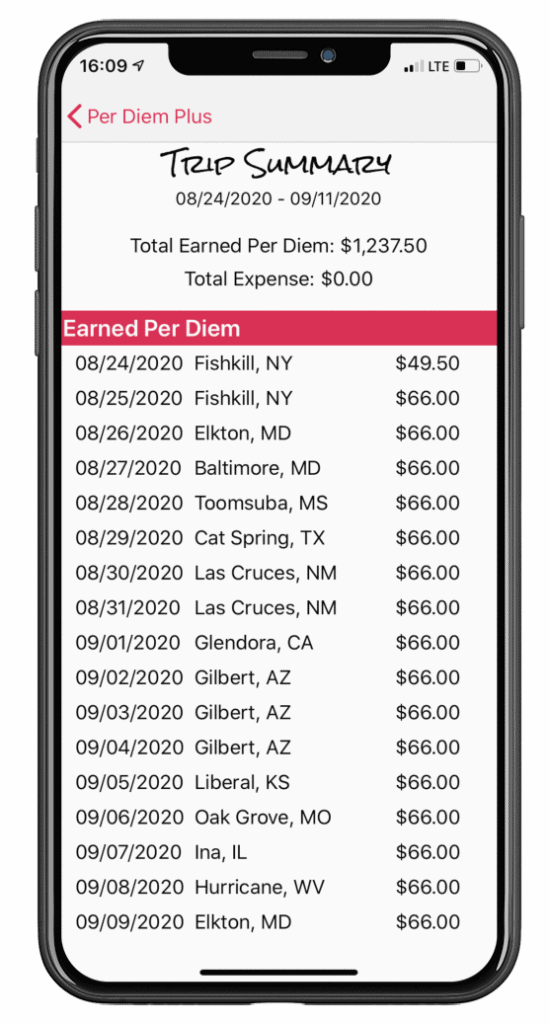 ---
Company-paid per diem
Can motor carriers pay per diem to employee drivers?
Yes. A motor carrier can offer per diem to drivers subject to DOT HOS and who travel away from home overnight where sleep or rest is required under an accountable per diem plan.
Is company-paid per diem taxable as income to an employee driver under an accountable fleet per diem plan?
No. Per diem is classified as a non-taxable reimbursement to an employee driver.
Is your fleet interested in adopting a company driver per diem program?
Trucker per diem rates
What are the current per diem rates for travel in USA & Canada?
IRS increased per diem rates effective October 1, 2021:
USA $69 from $66
Canada $74 from $71
Can a driver prorate per diem for partial days of travel?
Yes. A partial day is 75% of the per diem rate.
Partial per diem rate USA $51.75, Canada $55.50
Per Diem Plus will record 3/4 per diem when a driver departs their tax home BEFORE noon or returns to their tax home AFTER noon.
How much per diem can I deduct on my income tax return?
A self-employed trucker can deduct 80% of per diem (100% for tax years 2021 & 2022) on their tax return.
Use Schedule C, Profit / Loss From Business, or
Form 1120S - Line 19 "Other Deductions"
Incidental expenses
What are Incidental Expenses?
Only fees and tips.
Are showers & parking fees incidental expenses?
No. Self-employed drivers may separately deduct expenses for: Per Diem Plus subscription, showers, reserved parking fees, mailing expenses, supplies and laundry.
Can employee drivers deduct company-paid per diem on their tax return?
No.
Documenting other travel-related expenses
What documentation is required to prove other expenses?
Paper or electronic receipts that identify what, when and the amount are required. You can upload and store receipts on the Per Diem Plus app and share them electronically with your tax preparer in seconds. Learn how easy it is to ditch the paper receipts HERE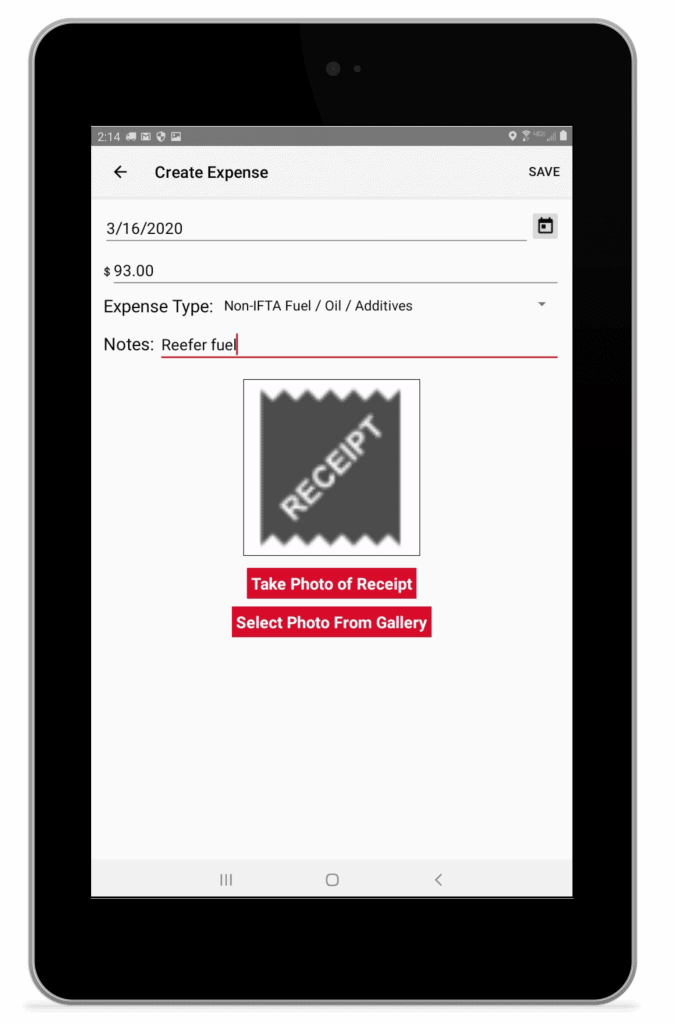 How long should tax records be retained?
No less than 3 years from the filing date of an income tax return. You have access to your Per Diem Plus tax records for four years.
What published guidance has the IRS issued that explains trucker per diem?
Refer to IRS Revenue Procedure 2011-47 or use the Per Diem Plus app that takes the guesswork out of tax-related record keeping.
---
Drivers, try Per Diem Plus for free for 30 days - No Credit Card Required.
---
Questions about trucker per diem?
---

Copyright 2017 Per Diem Plus. Per Diem Plus is the trademark of Per Diem Plus, LLC
Disclaimer: This article is for information purposes only and cannot be cited as precedence or relied upon in a tax dispute before the IRS.