Per Diem Plus® FLEETS introduces new service plan options: BASIC, WHITE LABEL and API.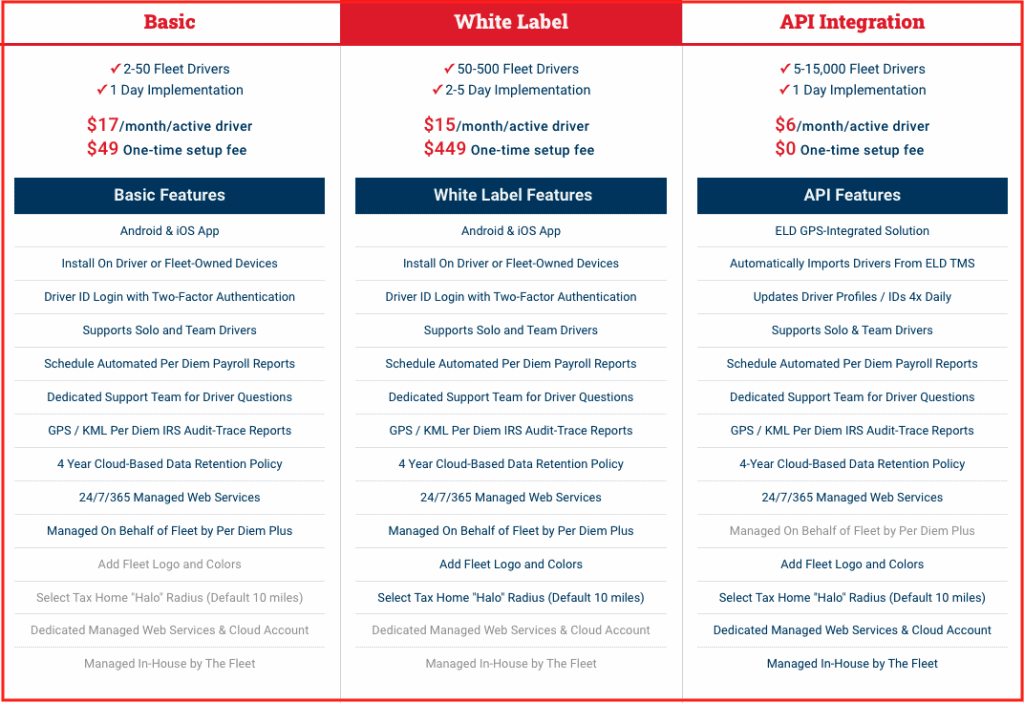 ---
Truckers Designed It, Tax Pros Built It, Drivers Want It.
Our cloud-based Per Diem Plus Fleets platform enables motor carriers to easily implement an IRS-compliant fleet per diem plan that will:
Enhance recruiting and retention by raising driver take-home pay
Save a motor carriers thousands of dollars per driver annually
Automate per diem payroll and tax compliance
Eliminate the need to retain ELD backups for 3 years
Per Diem Plus FLEETS is a configurable mobile application enterprise platform that automates administration of an IRS-compliant accountable per diem plan for truck drivers and fleets managers. No matter how big or small your company is, Per Diem Plus has a solution for you.
---
---
2021 TAX LAW UPDATE - READ ABOUT 100% DEDUCTION FOR PER DIEM
---
Fleets Save Money With Per Diem Plus
"We were able to buy three new trucks for our fleet with the savings we achieved by implementing a per diem program for our company drivers using the Per Diem Plus FLEETS platform." said Nick Adamczyk, Controller at Reliable Carriers.
Use our Fleet Per Diem Benefit Calculator to learn how much your fleet can save with Per Diem Plus Fleets.
---
Simplified Tax Compliance
A trucking company is required to prove 1) drivers were away from home overnight 2) identify the "date, place and amount" of each per diem event, and 3) retain substantiation through the retention of ELD backups or Per Diem Plus FLEETS platform for no less than 3 years.
The burdensome IRS compliance requirements are one reason trucking companies eschew company-paid per diem programs. Although, ELD's automate driver hours of service compliance, the process of creating an IRS-compliant per diem record is immensely time consuming. Fleets that implement the Per Diem Plus FLEETS platform can obtain IRS-compliant fleet per diem payroll reports for a week, month or even a year in under a minute. Furthermore, per diem records are retained on the secure cloud and instantly accessible to a fleet for four (4) years.
---
About Per Diem Plus FLEETS
Per Diem Plus FLEETS is a proprietary mobile software application that was designed by truckers and built by tax pros. It is the only IRS-compliant mobile app for iOS and Android that automatically tracks each qualifying day of travel in the USA & Canada and replaces ELD backups (logbooks) to substantiate away-from-home travel.
---
Do you have questions about Per Diem Plus FLEETS? Contact Us
Copyright 2020, 2021, 2022 Per Diem Plus, LLC. Per Diem Plus proprietary software is the trademark of Per Diem Plus, LLC.®