Make you mark on the future of Per Diem Plus Fleets for Motive beta - become a tester
Help us test and develop features and functionality of our integration with Per Diem Plus Fleets for Motive (Keeptruckin) beta. Per Diem Plus® Fleets API is a configurable, ELD-integrated enterprise platform that automates administration of an IRS-compliant accountable per diem plan for truck drivers and fleet managers.
Truckers designed. Tax pros built it. Your drivers want it. It takes only minutes to start up an IRS-compliant per diem plan with Per Diem Plus Fleets for Motive (Keeptruckin).
Take a deep dive into the benefits of offering per diem, for both your company and drivers.
Benefits:
Enhances recruiting and retention by raising driver take-home pay
Saves a fleet thousands of dollars per driver annually
Automates per diem payroll accounting and tax compliance
Eliminates the need to retain ELD backups for 3+ years to substantiate per diem
Designed for fleets with 2 - 15,000 trucks
Unlock Fleet Tax Savings Using Per Diem Plus
Although Congress temporarily increased the trucker per diem deduction to 100% for 2021 and 2022, there is a common misconception in the industry that at 80% deductibility per diem will not save a motor carrier money. The below tables prove otherwise.
Assumptions
The following analysis assumes 2,500 average weekly miles / driver; $69 per diem; $75,000 annual driver wages; 255 nights away from home; a 12% effective federal income tax rate, and $10/$100 workers' comp rate.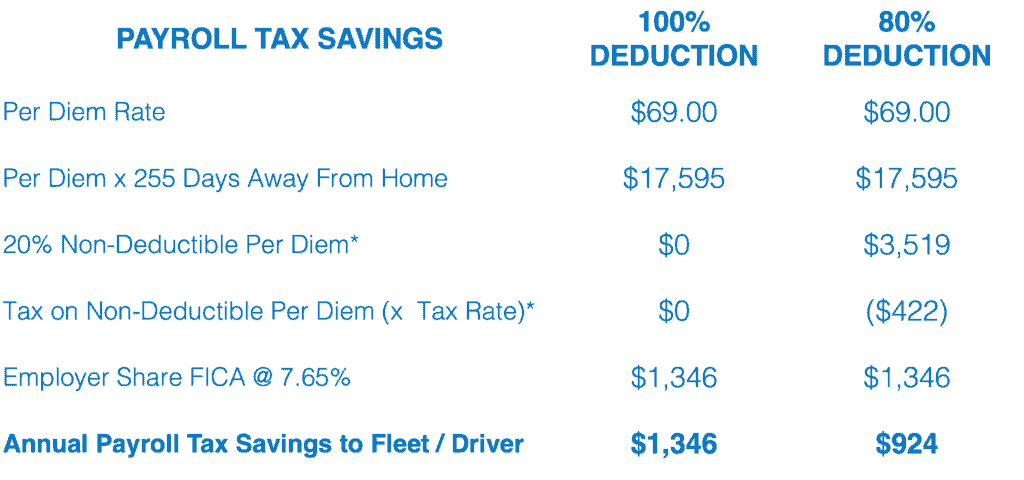 ---
About MOTIVE
Motive builds technology to improve the safety, productivity, and profitability of businesses that power the physical economy. The Motive Automated Operations Platform combines IoT hardware with AI-powered applications to automate vehicle and equipment tracking, driver safety, compliance, maintenance, spend management, and more. Motive serves more than 120,000 businesses, across a wide range of industries including trucking and logistics, construction, oil and gas, food and beverages, field services, agriculture, passenger transit, and delivery. Visit gomotive.com to learn more.
About Per Diem Plus
Per Diem Plus is the leading provider of cloud-based, IRS-compliant trucker per diem software solutions in the transportation industry. Established in 2015, Per Diem Plus was born over the founders 30 years of individual experience as IRS agents and tax practitioners and a relentless pursuit to introduce efficiency to the time-consuming task of per diem tax compliance for truckers and fleet managers. For more information, contact us at info@perdiemplus.com or visit www.perdiemplus.com