---
---
Unlock Fleet Savings With Per Diem Amid Economic Uncertainty
On Monday, November 21, 2022, Mark W. Sullivan, EA, Tax Counsel for Per Diem Plus hosted a webinar for the American Trucking Association titled, "Unlock Fleet Savings With Per Diem Amid Economic Uncertainty". The following are excerpts from that presentation.
The freight market has experienced steady softening over the past few months while the nationwide average price for a gallon of diesel fuel hovering around $5.36 or about $2.02 more than just one-year ago1. So how can fleets mitigate the exploding cost of fuel and softening freight rates2? Use per diem compliance tech to unlock fleet savings amid economic uncertainty and record inflation.
An automated telematic solution, like Per Diem Plus®, allows motor carriers to rapidly deploy a solution to realize immediate savings, offset pain at the pump and boost driver pay. Additionally, our cloud-based mobile-enabled platform offers flexible Service Plan Options allowing motor carriers to easily implement an IRS-compliant fleet per diem plan that:
Can be implemented in a single day
Enhances recruiting & retention by raising employee driver take-home pay
Saves a motor carrier thousands of dollars annually per driver
Automates per diem payroll accounting & tax compliance
Eliminates the need to retain ELD backups for 3 years to substantiate per diem
---
"We are seeing increased inflationary pressures throughout the business," U.S. Xpress CEO Eric Fuller said during a May 5 call. "Wages, both office and driver, are increasing [and] new equipment prices, insurance, maintenance, and fuel expenses are all up. Taken together, the cost of doing business is increasing across our industry."1

FleetOwner, May 23, 2022
---
Unlock Fleet Tax Savings Using Per Diem Plus
Although Congress temporarily increased the trucker per diem deduction to 100% for 2021 and 2022, there is a common misconception in the industry that at 80% deductibility per diem will not save a motor carrier money. The below tables prove otherwise.
Assumptions
The following analysis assumes 2,500 average weekly miles / driver; $69 per diem; $65,000 annual driver wages; 255 nights away from home; a 12% effective federal income tax rate, and $10/$100 workers' comp rate.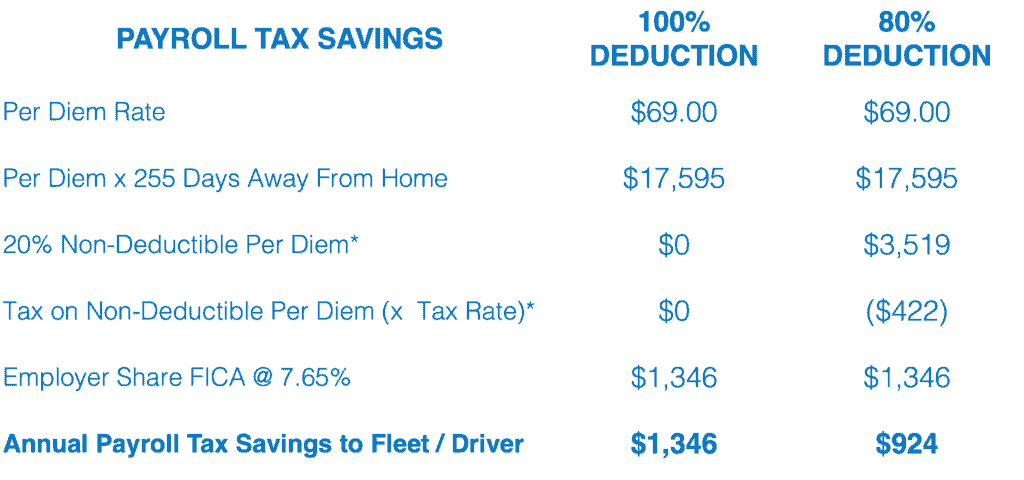 Workers Compensation Savings From Using Per Diem Plus
Twenty-three states are members of the National Council on Compensation Insurance (NCCI), 39 rely on NCCI regulations. Under NCCI rules a motor carrier paying substantiated per diem under an IRS-accountable plan can exclude up to $69/day of per diem from taxable wages, which provides a significant per driver annual savings to a fleet3.

With growing economic uncertainty and recessionary clouds on the horizon it is not known if Congress will extend the 100% deduction for per diem. However, a motor carrier that implements Per Diem Plus will be in a stronger position to weather the economic storm.

Case Study: 25 Driver Fleet

---
---
Driver Tax Savings From Per Diem
As of January 1, 2018, employee drivers can no longer claim per diem as an itemized deduction on their federal income tax return. However, motor carriers can offer per diem to employee drivers to recapture the lost tax savings. The average Married over-the-road driver earning $65,000 annually will save approximately $3,457 in federal income taxes equivalent to $0.03 cents per mile.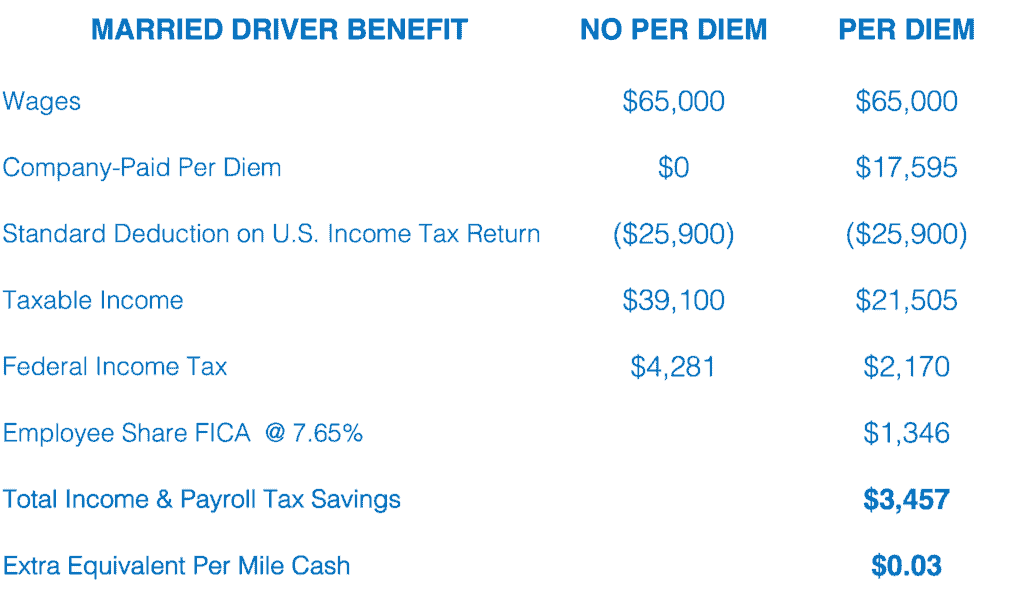 The average Single over-the-road driver earning $65,000 annually will save approximately $4,485 in federal income taxes equivalent to $0.04 cents per mile.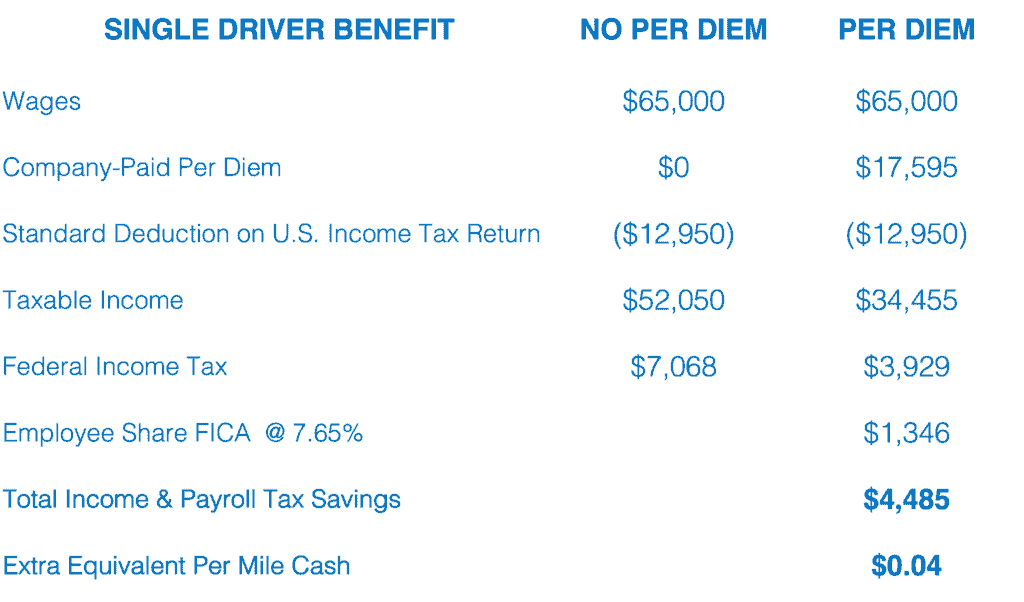 Use Per Diem Compliance Tech To Unlock Fleet Savings Amid Economic Uncertainty
GPS-Based Tracking: Per Diem Plus® utilizes telematics to establish IRS-required "time, date and place" substantiation to prove away-from-home travel.

Proven: Drivers have logged millions of miles using Per Diem Plus! Join those that value their time, love to eliminate inefficient paperwork, and want to simplify tax compliance and save money.

Easy Setup: Our IRS-compliant cloud-based ELD-integrated platform and mobile app solutions allow for rapid deployment with minimal investment in IT resources.

Easy to Use: Web services interface that allows non-technical users to manage individual and team drivers.

Scalable: Whether 5 or 15,000 trucks, our secure cloud-based platform will meet the growing needs of your fleet.

Data Plan Friendly: An average driver using our mobile app solution will use less than 50MB per month.
Per Diem Plus Software Platform
ELD-Integrated API
Native Android & iOS Mobile App
Distribute APK via MDM
Deep Link for Transflo Mobile
Per Diem Plus Fleets is also available on the Samsara App Marketplace and Platform Science Marketplace
For more information, contact us at info@perdiemplus.com or visit www.perdiemplus.com
---
About Per Diem Plus
Per Diem Plus is the leading provider of cloud-based, IRS-compliant trucker per diem software solutions in the transportation industry. Established in 2015, Per Diem Plus was born over the founders 30 years of experience as IRS agents and tax practitioners and a relentless pursuit to introduce efficiency to the time-consuming task of per diem tax compliance for truckers and fleet managers. For more information, contact us at info@perdiemplus.com or visit www.perdiemplus.com
About the Author
Mark is tax counsel for Per Diem Plus. With nearly two decades of experience advising trucking companies on per diem issues, Mark was responsible for defining the Per Diem Plus software logic rules that automatically calculates trucker per diem in accordance with IRS regulations. He also previously served as the consulting per diem tax expert for Omnitracs.
In addition to his time working with Per Diem Plus, Mark works in private practice as an Enrolled Agent at Mark Sullivan Consulting, PLLC specializing in federal tax controversy representation and consulting. He also served as the consulting and expert witness for the Federal Defenders Office and private defense counsel in financial crimes cases in multiple federal district courts. Contact Mark W. Sullivan, EA
---
Copyright 2022 Per Diem Plus, LLC. Per Diem Plus proprietary software is the trademark of Per Diem Plus, LLC.®
1 Kingston, John, "Weekly DOE/EIA diesel price decline is biggest since 2008", Freightwaves, July 25, 2022 LINK
2 Achelpohl, Scott, "Survey points to exodus of small operators - and fuel costs as the culprit", FleetOwner, May 23, 2022 LINK
3 North Carolina allows a $75 exemption for per diem Rule 2-B-2 LINK