Per Diem Plus FLEETS Automates Per Diem For Samsara Customers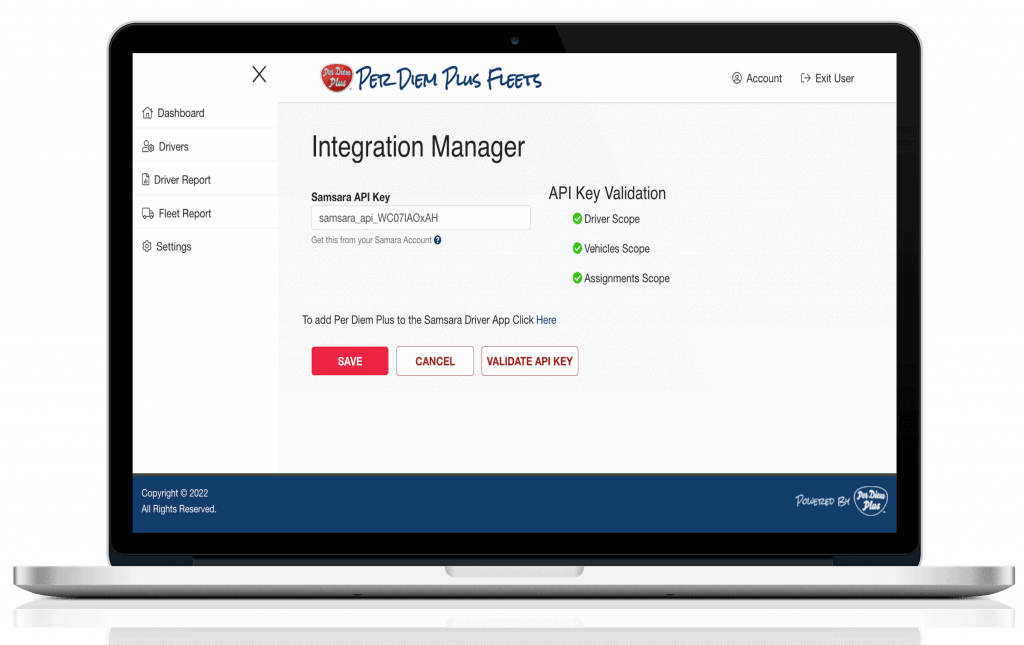 ---
Our new "Check Configuration" button makes implementing Per Diem Plus for Samsara "a no-brainer".
New "Check Configuration" API button added for Samsara. Why is this new feature important? Samsara recently updated their API requirements by incorporating granular scopes to the configuration of integrated solutions, like Per Diem Plus. What was previously a simple 3 step process morphed into 7 specific configuration permissions, which created issues for some motor carriers.
How does the new "Check Configuration" API button added to Samsara work? When an API access token is added to the Integration Manager it will automatically check the API Token configuration.
If the API Token is not configured properly a message is displayed indicating the scopes are not set.
If the API Token is configured correctly a success message is displayed listing Driver, Vehicles and Assignments.
About Per Diem Plus Fleets API
Our API adapter was developed in response to growing industry demand to build integrations and is a part of PDP's continued strategy to improve business management practices with best-in-class, IRS-compliant per diem solutions. Fleets can seamlessly integrate PDP Fleets with Samsara's Connected Operations Platform to automate the implementation and administration of an IRS-compliant accountable driver per diem plan for fleet managers.
Per Diem Plus Fleets is available to all fleets on the Samsara App Marketplace.
---
Use our Fleet Per Diem Benefit Calculator to learn how much your fleet can save with Per Diem Plus Fleets.
---
Per Diem Plus FLEETS is a configurable mobile application enterprise platform that automates administration of an IRS-compliant accountable per diem plan for truck drivers and fleets managers. No matter how big or small your company is, Per Diem Plus has a solution for you.
---
---
About Samsara
Samsara is the pioneer of the Connected Operations Cloud, which allows businesses that depend on physical operations to harness IoT (Internet of Things) data to develop actionable business insights and improve their operations. Samsara operates in North America and Europe and serves tens of thousands of customers across a wide range of industries including transportation, wholesale and retail trade, construction, field services, logistics, utilities and energy, government, healthcare and education, manufacturing, and food and beverage. The company's mission is to increase the safety, efficiency, and sustainability of the operations that power the global economy at www.samsara.com.
About Per Diem Plus
Per Diem Plus was born over our 30 years of individual experience as agents and tax practitioners and a relentless pursuit to introduce efficiency to the time-consuming task of tax compliance for truck drivers, fleets and their accounting professionals. The Per Diem Plus® FLEETS mobile application platform enables motor carriers to easily implement an IRS-compliant fleet per diem program in hours that is scalable and data plan-friendly. Per Diem Plus was designed, developed and is managed in the USA and is the only IRS-compliant mobile application that provides automatic trucker per diem for solo and team drivers traveling in the United States and Canada. For more information, contact us at info@perdiemplus.com or visit www.perdiemplus.com
---
Copyright 2022 Per Diem Plus, LLC. Per Diem Plus proprietary software is the trademark of Per Diem Plus, LLC.®