Truckers designed it, tax pros built it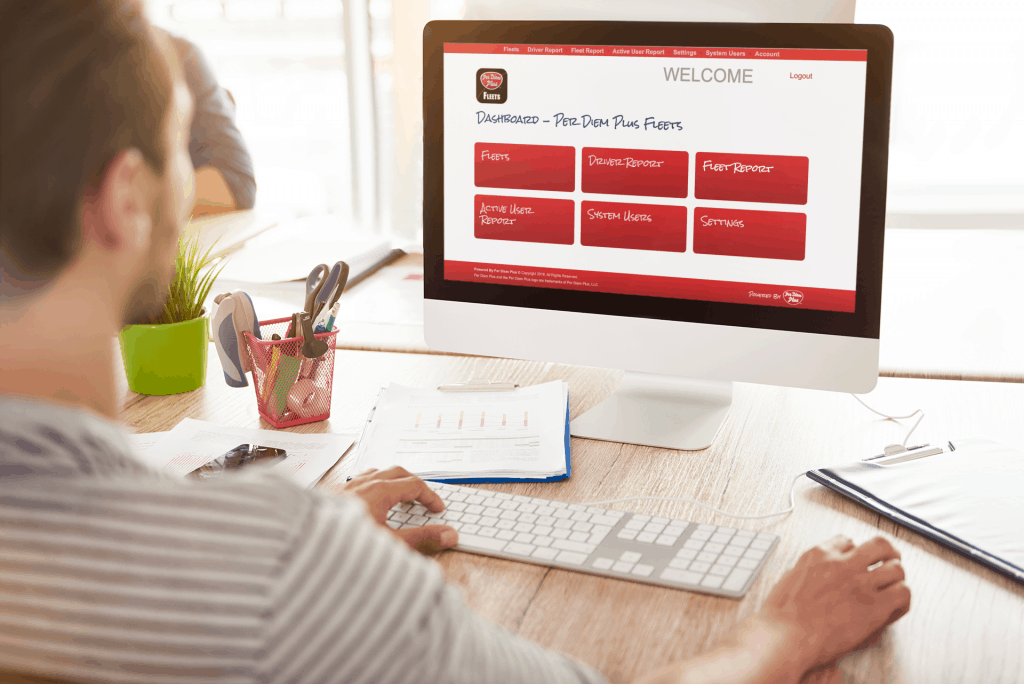 Per Diem Plus® FLEETS is a configurable mobile application platform that automates administration of an IRS-compliant accountable trucker per diem plan for fleets managers. No matter how big or small your company is, Per Diem Plus has a solution for you.
Truckers designed it, tax pros built it, drivers want it. Our cloud-based FLEETS mobile app platform enables motor carriers to implement an IRS-compliant fleet per diem plan that will:
Enhance recruiting and retention
Raise employee driver take-home pay
Save a motor carrier with reduced employment taxes and worker compensation premiums
Streamline tax compliance
Eliminate the need to retain ELD backups for 3 years
---
"Partnering with Per Diem Plus provided Reliable Carriers a turn-key solution configured to meet the needs of our fleet and offer this benefit to our drivers"

Nick Adamczyk, Controller
Reliable Carriers, Inc.
---
Implementing Per Diem Plus is easy
Implementing Per Diem Plus FLEETS is a breeze and does not require specially trained professional installers like telematics solutions.
Drivers can download the app onto their personal device from Google Play or App Store.
Our available Android Package (APK) enables a fleet to install the app using the most common master distribution methods, like MaaS360, SOTI and AirWatch.
Transflo Mobile, Samsara* and Keeptruckin* integrations enable a fleet to skip the app install process. Drivers launch the app from within the ELD interface.
Check-the-box app configuration
Configure your per diem app in minutes with our simple check-the-box menu.
Driver Types
Driver & Fleet Report Settings
Tax Halo Radius
Per Diem Rates
For example, the app allows you to select individual, team drivers or both. The geofence tax home radius can be set from 5 - 50 miles and that best matches fleet lanes and app installation type. Or to minimize cellular data plan usage you can white list the app using our static IP address.
---
Choose from flexible service plan options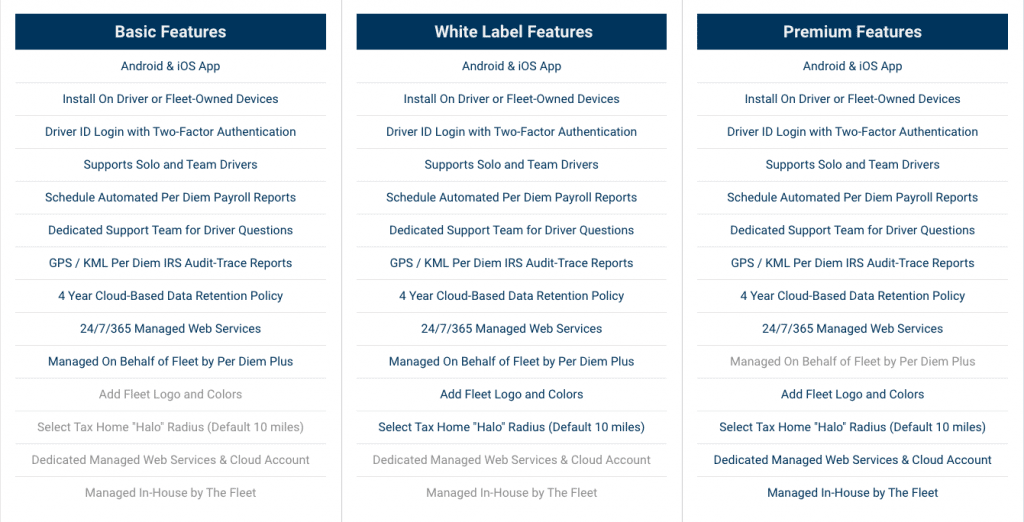 ---
Get in touch with the experts at Per Diem Plus today to discuss a smooth rollout for your system.
Purchasing a fleet per diem mobile solution for your business does not have to be a tedious effort. Consult one of our business solution specialists to learn more about the benefits of our automated per diem solution.
---
* Deep-link integration scheduled for Q4 2020 release
Per Diem Plus 2020. All rights reserved. Per Diem Plus is a trademark of Per Diem Plus, LLC. A proprietary software application, which provides automatic per diem and expense tracking for truckers (USPTO Registration #86754053)