Per Diem Plus® FLEETS is a configurable mobile application enterprise platform that automates administration of an IRS-compliant accountable trucker per diem plan for OTR drivers and fleets managers. No matter how big or small your company is, Per Diem Plus has a solution for you.
Choose from three service plan options; BASIC, WHITE LABEL & PREMIUM.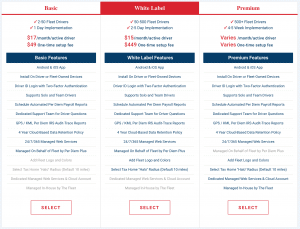 FLEETS features:
Android & iOS apps
Formatted for smartphones & tablets
Install on driver or fleet-owned devices
Driver ID login with two-factor authentication
Supports solo & team drivers
Dedicated support team for driver questions
Automated per diem payroll reports
GPS / KML per diem IRS audit-trace reports
4-year cloud-based document retention policy
99.9% uptime with 24/7/365 managed web services & Tier II technical support
Truckers designed it. Tax pros built it. Your drivers want it. Our cloud-based FLEETS mobile app platform enables motor carriers to implement an IRS-compliant fleet per diem plan that will:
Save a motor carrier with reduced employment taxes and worker compensation premiums
Raise employee driver take-home pay
Enhance recruiting and retention
Streamline tax compliance
Eliminate the need to retain ELD backups for 3 years
"

Partnering with Per Diem Plus provided Reliable Carriers a turn-key solution configured to meet the needs of  our fleet and offer this benefit to our drivers" 
Nick Adamczyk, Controller
Reliable Carriers, Inc.
---
White Label options:
Add fleet colors and logo
Define tax home halo radius
Link account with other software
Available APK, deep link and static IP
Dedicated managed cloud services account
Fleet management via web services
Never Lost feature: Data is stored on secure cloud and can be downloaded to a new device in the event of loss, damage, or theft.
---
---
Questions? Contact us at info@perdiemplus.com
Per Diem Plus , a proprietary software application, which provides automatic per diem and expense tracking for truckers (USPTO Registration #86754053)