No. The treatment of per diem as a portion of an employee's wages has been unique to the transportation industry since at least 1989 and is not considered an improper "wage reclassification". The IRS first introduced per diem (per day) allowances in Revenue Procedure 90-60 - a simplified method of substantiating employee business expenses - in accordance with the Family Support Act of 1988. The first published guidance for the transportation industry was issued in 1991 where, according to the IRS, a driver's weekly compensation earned on a cents-per-mile basis may be reduced by amounts designated as per diem for meals and incidental expenses for each day away from home overnight [TAM 9146003]. However, the Special Transportation Industry substantiated per diem method was not introduced until 2000 [See Rev. Proc. 2000-39, 2000-9 Sec. 4.04, Notice 2000-48], which among other things:
Established a method allowing a payor to treat a specific amount as paid or incurred for employee meals while traveling away from home for work instead of substantiating actual costs (no receipts required).
Set $40 as the nationwide federal meals and incidental expenses (M&IE) rate for transportation employees subject to DOT hours of service. [Increased to $66 in 2018] [i]
Increased the tax-deductible percentage of employee travel expenses to 60%. [Raised to 80% in 2008] [ii]
Approved as a transportation industry standard prior to December 12, 1989 the treatment of a portion of a driver's wages as per diem. [iii]
Required a fleet using the cent-per-mile method to include a process that;

tracks the amount of cents-per-mile M&IE allowance paid to a driver on a per diem basis,

includes a mechanism to determine when allowances exceed the amount of expenses that may be deemed substantiated, and

treat the excess allowance over $40 per day as wages for withholding or employment tax purposes. [Increased to $66 in 2018][iv]

Established that all amounts paid under a per diem arrangement that meets the requirements of business connection, substantiation, and returning amounts in excess of expenses are treated as paid under an accountable plan and are excluded from income and wages.
Well-known motor carriers that utilize substantiated per diem include Averitt Express, TMC Transportation, Transport America and EPES Transport System.
---
The Internal Revenue Code gives the IRS Commissioner discretionary authority to issue regulations, such as revenue rulings and procedures, to ease the burden on taxpayers, who would otherwise have to meet the extensive substantiation requirements in order to claim deductions for business related travel. The Commissioner updates these Revenue Procedures annually, but the relevant per diem provisions have remained substantially the same since 2000. However, in 2012 the IRS issued Revenue Ruling 2012-25, which is inapplicable to transportation industry, in response to an emerging trend whereby businesses that did not historically offer per diem were implementing abusive plans that recharacterized taxable wages as nontaxable reimbursements or allowances. In three of the four situations listed in the revenue ruling the employer failed to fulfill the business connection requirement of the regulations:
A cable TV contractor offered a tool reimbursement that reduced hourly compensation that was offset with an hourly tool rate. Once a technician had received tool plan payments for the total amount of his or her tool and equipment expenses, the employer ceased paying the technician an hourly tool rate and increased the technician's hourly compensation to the pre-tool plan hourly compensation rate.
A nurse staffing contractor compensated all of the nurses on an hourly basis and the hourly compensation amount did not vary depending on whether the hospital was located away from the assigned nurse's tax home. The employer treated a portion of the nurses' hourly compensation as a nontaxable per diem allowance only when hospitals assignments required them to travel away from their tax home. This situation is like that in Beech Trucking, Inc. v. IRS (USTC 2002) where the company paid per diem to both over-the-road and short haul truck drivers who returned home nightly.
A construction company's workers were required to travel between construction sites or otherwise use their personal vehicles for business purposes. The employer paid all of its workers, including those who were not required to travel or otherwise use their personal vehicles for employer's business, a flat amount per pay period that was treated as a nontaxable mileage reimbursement.
A cleaning services company that employed cleaning professionals that provided their own cleaning supplies to perform house cleaning services. The employer properly adjusted hourly compensation and reimbursed employees only for substantiated clean supply expenses.
The employer's cited in the Rev. Ruling 2012-25 failed to fulfill the business connection requirement of the regulations because they took liberties with IRS published guidance and ignored the limitations set forth in Rev. Proc. 2011-47 Section 3.03(2) which states in part, "An allowance that is computed on a basis similar to that used in computing an employee's wages or other compensation does not meet the business connection requirement unless, as of December 12, 1989, (a) the allowance was identified by the payor either by making a separate payment or by specifically identifying the amount of the allowance, or (b) an allowance computed on that basis was commonly used in the industry in which the employee performed services." Furthermore, neither cable contractors, nurses, construction workers or house cleaners enjoy industry-specific rules prescribed by the IRS Commissioner like those covering the transportation industry introduced in Rev. Proc. 2000-9 Section 4.04 that established the Special Transportation Industry per diem[i].
---
Example 1. A truck driver employee travels away from home on business for 24 days during a calendar month. A payor pays him the $66 special trucking daily allowance for meal and incidental expenses only. The amount deemed substantiated is the total per diem allowance paid for the month or $1,584 (24 days away from home at $66 per day).
Example 2. A truck driver is paid a 10 cents-per-mile per diem allowance based on the number of miles driven. He travels away from home for 24 days but only drives for 20. Driver's employer pays an allowance of $1,000 for the month based on 2500 miles per week. The amount deemed substantiated is the full $1,000 because that amount does not exceed $1,584 (24 days away from home at $66 per day).
---
Which provides the largest benefit to a driver, substantiated or cent-per-mile per diem?
Although, a driver may travel 600 miles one day but only 200 miles the next, the distance traveled does not affect the need to eat 3 meals a day. Thus, the IRS introduced the Special Transportation Industry substantiated per diem to simplify tax compliance for fleets by relying on nights away from home instead of miles traveled.
The most beneficial aspect to a driver is that:
Substantiated method yields on average 45% more per diem than cent-per-mile.
Substantiated per diem can be earned during a 34-hour restart and unforeseen delays like detention, breakdowns, or weather.
The average driver will save an additional $1,126 - $1,467 in income and payroll taxes over cent-per-mile.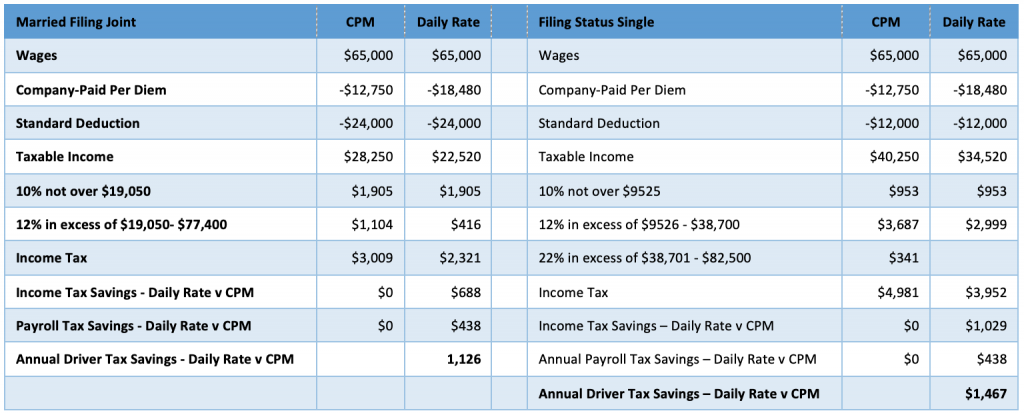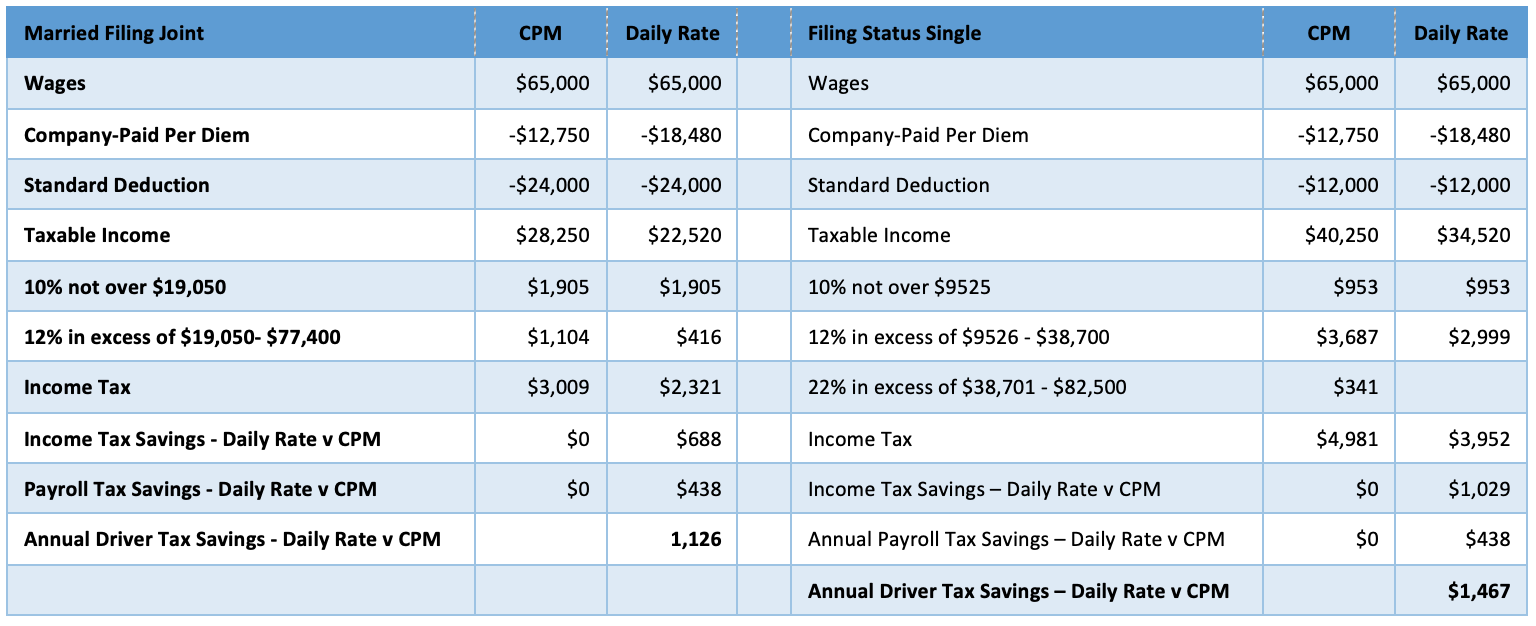 ---
Thirty years of IRS guidance and legislative history specifically reference an employer paying a driver in the transportation industry under the substantiated method and, therefore, contemplate that some portion of a driver's wages will be treated as per diem. While, both the substantiated and cent-per-mile per diem methods are IRS-compliant, neither method has been considered a wage reclassification for over 30 years. However, a motor carrier that adopts the substantiated per diem method that is built into Per Diem Plus FLEETS will realize the most benefit for both the fleet and their drivers.
Per Diem Plus FLEETS Product Sheet
---
About Per Diem Plus FLEETS
Per Diem Plus FLEETS is a proprietary mobile software application that was designed by truckers and built by tax pros. It is the only IRS-compliant mobile app for iOS and Android that automatically tracks each qualifying day of travel in the USA & Canada and replaces ELD backups (logbooks) to substantiate away-from-home travel.
---
This article was written by Mark W. Sullivan EA, Tax Counsel for Per Diem Plus, who has over a decade of experience advising trucking companies on per diem issues. Prior to starting a private practice in 1998, Mr. Sullivan was an Internal Revenue Officer with the New York, NY, Saint Louis, MO and Washington, D.C. offices of the Internal Revenue Service. Questions? Contact Mark W. Sullivan, EA.
Copyright 2019 Per Diem Plus, LLC. Per Diem Plus proprietary software is the trademark of Per Diem Plus, LLC.®
Disclaimer: This article is for information purposes only and cannot be cited as precedence or relied upon in a tax dispute before the IRS.
[i] The 2019 per diem rate for travel in the USA is $66 and $49.50 for a partial day.
ii] The raised the deductible percentage of employee travel related expenses to 80% in 2008
iii] Federal Register-1989-12-12 Vol 54 Page 51038 pursuant to "Family Support Act of 1988"
[iv] Rev. Ruling 2006-56, 2006-2 CB 274
[i] Updated annually IRS Notice 2019-55, 2018-77, 2017-54, 2016-58, 2015-63, 2014-57, 2013-65, 2012-63, Rev. Proc. 2011-47, 2010-39, 2009-47, 2008-59, 2007-63, 2006-41, 2005-67, 2004-60, 2003-80, 2002-63 and 2001-47.