Designed by drivers, built by tax pros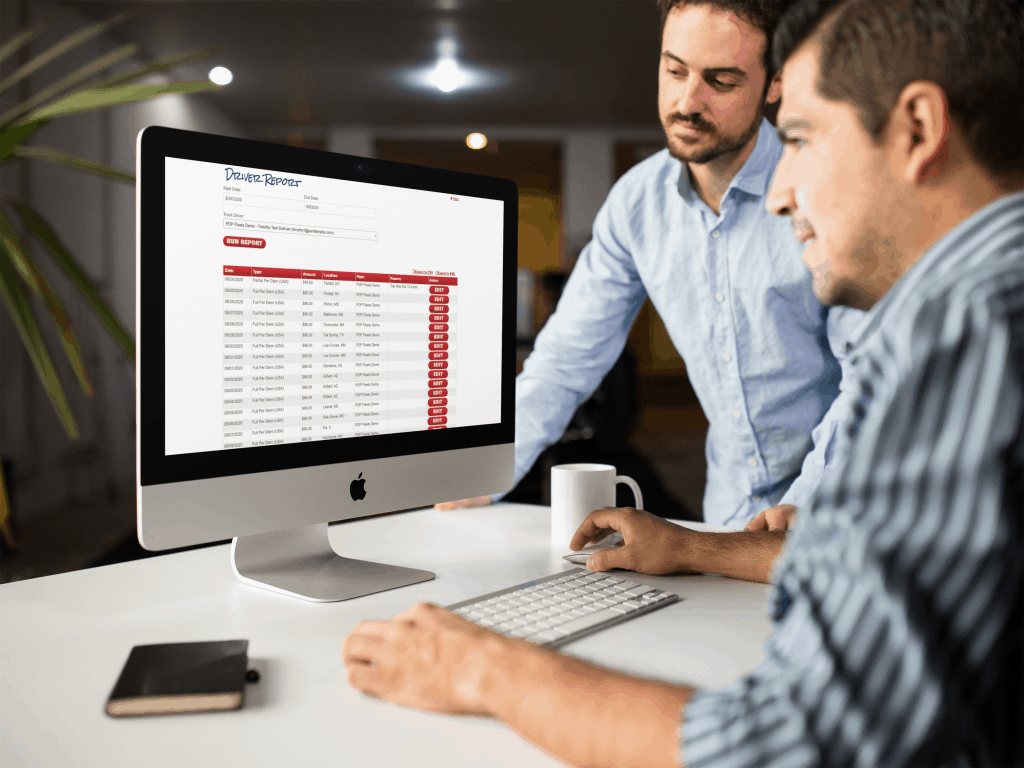 ---
---
Implementing a fleet per diem solution is something that should be on many fleet managers' to-do list. They know the benefits to drivers, they know the incredible ROI, and yet it still manages to slip down the list of immediate priorities. One of the main perceived barriers to implementing Per Diem Plus Fleets mobile app is the rollout process.
With such a dramatic overhaul of your fleet, surely there will be some bumps along the way — translating to tech overload and a hit to back-office productivity, right? Perhaps you're worried that there are things you've missed, and you'll suffer teething issue after teething issue before you see the benefits you were promised.
The good news is that this needn't be the case, no matter the size of your fleet.
Here are some key factors to consider helping ensure a smooth rollout of your fleet per diem solution.
Implementing Per Diem Plus is easy
Implementing Per Diem Plus FLEETS is a breeze and does not require specially trained professional installers like telematics solutions.
Drivers can download the app onto their personal device from Google Play or App Store.
Our available Android Package (APK) enables a fleet to install the app using the most common master distribution methods, like MaaS360, SOTI and AirWatch.
Transflo Mobile and Samsara deep-link integrations enable a fleet to skip the app install process. Drivers launch the app from within the ELD interface.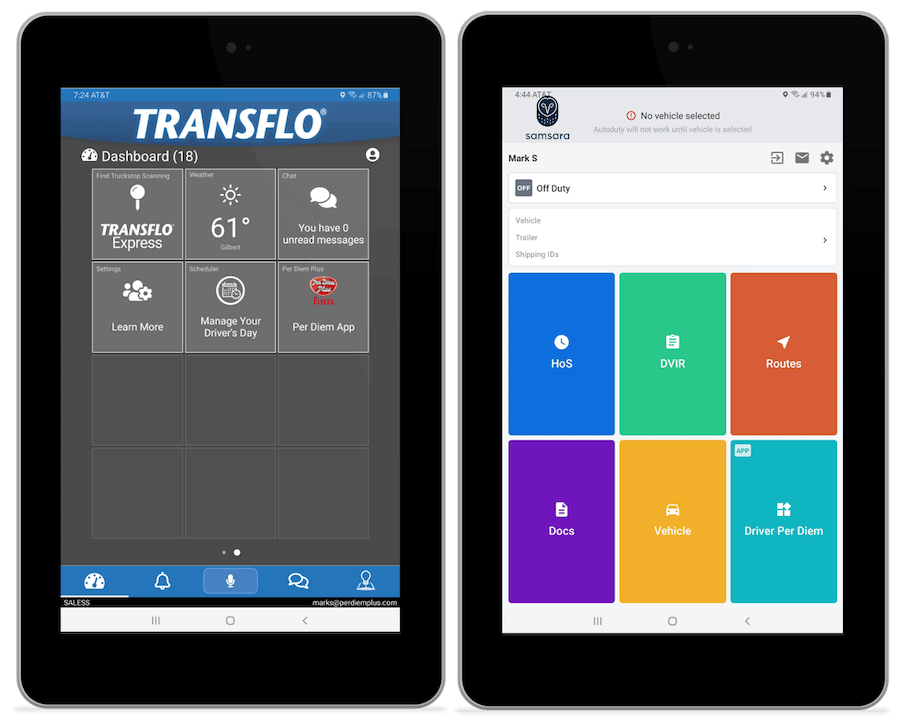 Check-the-box app configuration
Configure your per diem app in minutes with our simple check-the-box menu.
Driver Types
Driver & Fleet Report Settings
Tax Halo Radius
Per Diem Rates
For example, the app allows you to select individual, team drivers or both. The geofence tax home radius can be set from 5 - 50 miles and that best matches fleet lanes and app installation type. Or to minimize cellular data plan usage you can white list the app using our static IP address.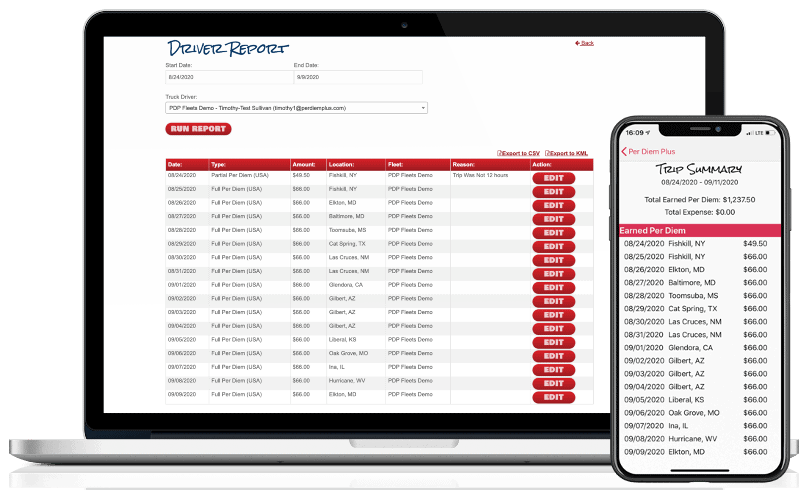 Tax Compliance
Per Diem Plus was purpose-built to simplify substantiated per diem tax compliance. Have you thought about how you can use the data gathered? There are a few important things to note.

Use your Fleet Reports quickly audit your per diem program or to support the Workers Compensation per diem exemption in addition to or instead of your paper documents.
To run a Fleet Report in the FLEETS Web App:
Click on the main menu and select Fleet Report.
In the Fleet drop-down field, select your fleet.
Choose the date range, Last Month or This Month and click Get Report.
Choose Export Report to download a CSV file.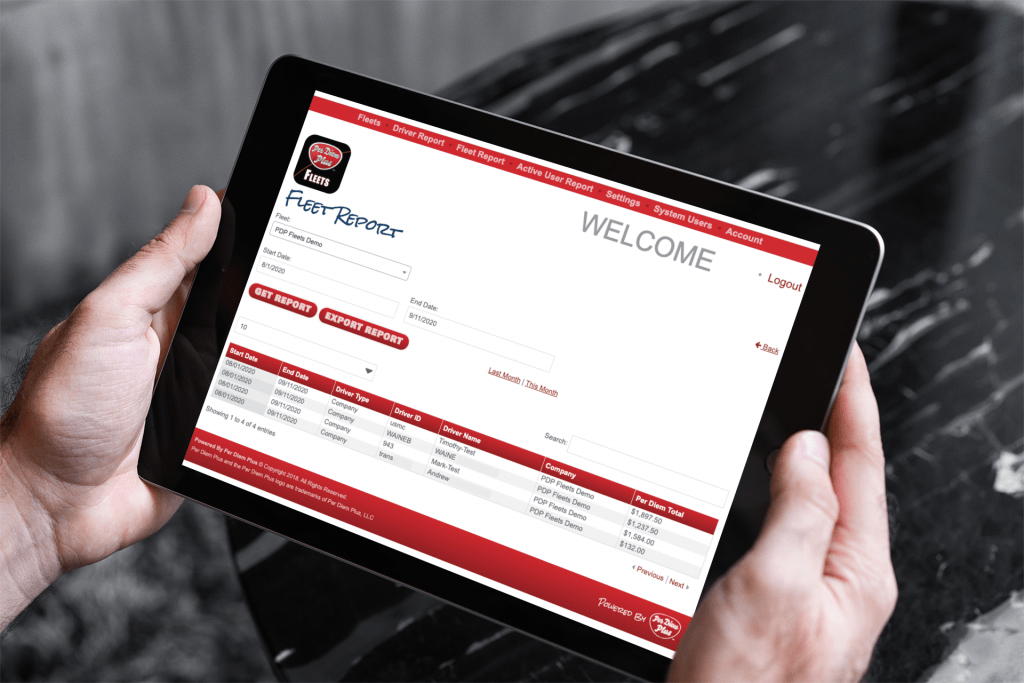 Generate reports with Per Diem Plus:
When you use Per Diem Plus Fleets Web App for Premium users, you have access to your fleetwide reporting that you can use to analyze your per diem program. The report tracks per diem totals for each driver for a given period. If you are interested in a map of a trip route to see exactly where a driver traveled, you can access that from a KML export within a Driver Report.
Employee transparency
Per Diem Plus was designed by drivers. Your mobile app ensures trip data is instantly accessible to drivers, which enables them to actively check/monitor their own per diem. Getting buy in from your drivers will maximize the driver and fleet benefits while streamlining administration on the program for your human resources team.
Some careful scoping and planning at this early stage can go a long way towards ensuring your business is matched with its ideal fleet per diem management solution.
---
Related Articles:
Use Per Diem to Raise Trucker Pay to Attract New Drivers
Raise Driver Take-Home Pay with Per Diem
---
Get in touch with the experts at Per Diem Plus today to discuss a smooth rollout for your system.
Purchasing a fleet per diem mobile solution for your business does not have to be a tedious effort. Consult one of our business solution specialists to learn more about the benefits of our automated per diem solution.
---
---
* Deep-link integration scheduled for Q4 2020 release