Designed by drivers, built by tax pros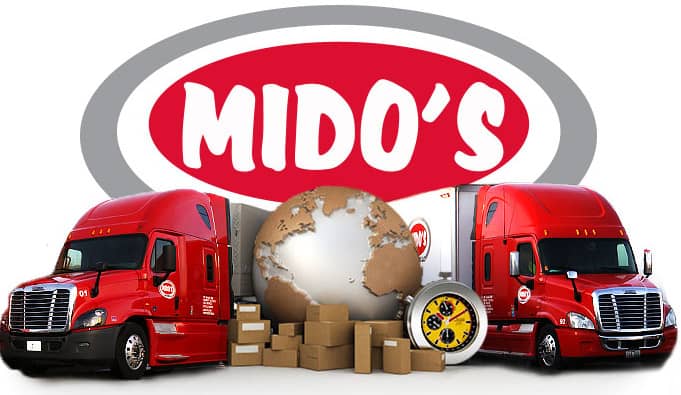 ---
Mido's Trucking selects Per Diem Plus
Mido's Trucking selects Per Diem Plus for Samsara. The St. Louis-based truckload carrier is using Per Diem Plus to further streamline operational efficiency and per diem accounting of its 100-vehicle fleet.
---
"America is truly the land of opportunity. I am living proof that if you dream big, work hard and persevere anything is possible."
- Mido Selimovic, President
---
---
About:
Mido Selimovic came to the US in 1999 as an 18-year-old refugee from Vlasenica, Bosnia-Herzegovina where his family struggled to stay alive in a country destroyed by the Bosnian War. At age 25 Mido entered the transportation industry by purchasing his first truck. In 2008, he opened Mido's Trucking with his sole purpose being to provide a workplace for fellow war refugees who were looking for a reliable carrier they could work for and call their home. Since starting Mido's 15 years ago the company has grown to 100 trucks serving 48 states with the help of his wife Azra, a fellow refugee who fled Kozarska-Dubic at the outset of the war when she was 12.
As with many small businesses in America, Mido's is a family affair with many relatives working for the company as drivers, dispatchers and mechanics. Mido's mission as refugee haven remains unchanged to this day; they employ drivers from Africa, Asia, Bulgaria, Eastern Europe and Thailand looking for an opportunity to make a fresh start in the USA.
What Customer Needed:
An IRS-compliant integrated platform solution that would allow for rapid deployment with minimal investment in dollars and IT resources.
A web services dashboard that would be easy-to-use for non-technical users.
A scalable, secure, cloud-based solution to meet the growing needs of their fleet.
Automated administration of a company-paid accountable per diem program.
Per Diem Projected Results:
The fleet saved more than $3,000 per driver annually through reduced income and payroll taxes and workers compensation since implementing the PDP Fleets mobile app in 2021.
The tax-free per diem program increased driver pay up to 4 cents per mile.
Transition from mobile app to API was completed in a single day.
---
The carrier will be able to increase driver pay AND reduce expenses through implementing Per Diem Plus for Samsara.
---
Implementing Per Diem Plus Fleets is easy
The Per Diem Plus API for Samsara allows for rapid deployment with minimal investment in dollars and/or IT resources. Configure your fleet in three simple steps.
Create API Token in Samsara and email to it api.support@perdiemplus.com
Enter Terminal Addresses & Driver Phone Numbers
Paste the API Token into the web services Integration Manager
---
Get in touch with the experts at Per Diem Plus today to discuss a smooth rollout for your system.
---
Are you attending TCA Truckload 2022 in Las Vegas (March 20-22) and want to learn more about the PDP Fleets integration with Samsara? Schedule a meeting with Mark Sullivan, API Manager HERE
---
Related articles
Use Per Diem to Raise Trucker Pay to Attract New Drivers
Implementing Per Diem Plus® FLEETS into Your Fleet to Ensure a Smooth Rollout
Raise Driver Take-Home Pay with Per Diem
---
Questions? Contact Mark W. Sullivan API Manager - Per Diem Plus Fleets Platform
About Per Diem Plus
Per Diem Plus was born over our 25 years of experience as agents and tax practitioners and a relentless pursuit to introduce efficiency to the time-consuming task of tax compliance for truck drivers, fleets and their accounting professionals. The Per Diem Plus® FLEETS platform enables motor carriers to easily implement an IRS-compliant fleet per diem program in hours that is scalable and data plan-friendly. Per Diem Plus was designed, developed and is managed in the USA and is the only IRS-compliant mobile application that provides automatic trucker per diem for solo and team drivers traveling in the United States and Canada. For more information, contact us at info@perdiemplus.com or visit www.perdiemplus.com
About Samsara
Samsara is the pioneer of the Connected Operations Cloud, which allows businesses that depend on physical operations to harness IoT (Internet of Things) data to develop actionable business insights and improve their operations. Samsara operates in North America and Europe and serves tens of thousands of customers across a wide range of industries including transportation, wholesale and retail trade, construction, field services, logistics, utilities and energy, government, healthcare and education, manufacturing, and food and beverage. The company's mission is to increase the safety, efficiency, and sustainability of the operations that power the global economy at www.samsara.com.
Copyright 2022 Per Diem Plus, LLC. Per Diem Plus proprietary software is the trademark of Per Diem Plus, LLC.®