Designed by drivers, built by tax pros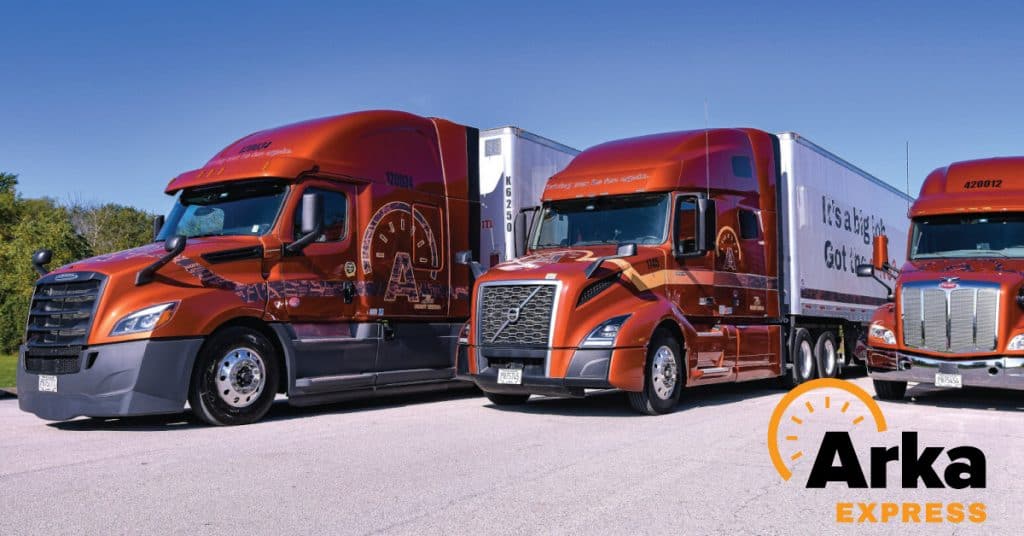 ---
Arka Express selects Per Diem Plus for Samsara
Arka Express selects Per Diem Plus for Samsara to raise driver pay and enhance operational efficiency for its 400-vehicle "first in excellence" fleet.
---
"The API was quick and easy to set up and run, which was a significant factor in our choosing Per Diem Plus for Samsara."

Art Astrauskas, President
---
---
About:
Arka Express has evolved from a small 35-unit carrier located out of Markham, IL, to an elite, state-of-the-art fleet of 400 units built by the top transportation professionals in the industry in only 10 years.
In addition to our Markham terminal, they are currently establishing headquarters in Indiana, Atlanta, Georgia and Marlboro Township, New Jersey as they continue to deliver services throughout the Midwest, east coast and Southeast. Drivers typically operate in a 400-mile regional radius in both Chicago and Atlanta. In addition, they have developed an OTR presence from the Dakotas to Florida to New York—and everything in between.
What Customer Needed:
An IRS-compliant mobile application platform solution that would allow for rapid deployment with minimal investment in dollars and IT resources.
A web services dashboard that would be easy-to-use for non-technical users.
A scalable, secure, cloud-based solution to meet the growing needs of their fleet.
Automated administration of a company-paid accountable per diem program.
Per Diem Projected Results:
The fleet should save more than $3,600 per driver annually through reduced income and payroll taxes and workers compensation.
The tax-free per diem program should increase driver pay up to 4.6 cents per mile.
API implemented in a single day.
---
The carrier will be able to increase driver pay AND reduce expenses through implementing Per Diem Plus for Samsara.
---
Use our Fleet Per Diem Benefit Calculator to learn how much your fleet can save with Per Diem Plus Fleets.
---
Get in touch with the experts at Per Diem Plus today to discuss a smooth rollout for your system.
Per Diem Plus FLEETS is a configurable mobile application enterprise platform that automates administration of an IRS-compliant accountable per diem plan for truck drivers and fleets managers. No matter how big or small your company is, Per Diem Plus has a solution for you.
---
Related articles
Use Per Diem to Raise Trucker Pay to Attract New Drivers
Implementing Per Diem Plus® FLEETS into Your Fleet to Ensure a Smooth Rollout
Raise Driver Take-Home Pay with Per Diem
---
Questions? Contact Mark W. Sullivan API Manager - Per Diem Plus Fleets Platform
About Per Diem Plus
Per Diem Plus was born over our 25 years of experience as agents and tax practitioners and a relentless pursuit to introduce efficiency to the time-consuming task of tax compliance for truck drivers, fleets and their accounting professionals. The Per Diem Plus® FLEETS platform enables motor carriers to easily implement an IRS-compliant fleet per diem program in hours that is scalable and data plan-friendly. Per Diem Plus was designed, developed and is managed in the USA and is the only IRS-compliant mobile application that provides automatic trucker per diem for solo and team drivers traveling in the United States and Canada. For more information, contact us at info@perdiemplus.com or visit www.perdiemplus.com
About Samsara
Samsara is the pioneer of the Connected Operations Cloud, which allows businesses that depend on physical operations to harness IoT (Internet of Things) data to develop actionable business insights and improve their operations. Samsara operates in North America and Europe and serves tens of thousands of customers across a wide range of industries including transportation, wholesale and retail trade, construction, field services, logistics, utilities and energy, government, healthcare and education, manufacturing, and food and beverage. The company's mission is to increase the safety, efficiency, and sustainability of the operations that power the global economy at www.samsara.com.
Copyright 2022 Per Diem Plus, LLC. Per Diem Plus proprietary software is the trademark of Per Diem Plus, LLC.®