Intercity Lines Case Study: Per Diem Saves Fleets Thousands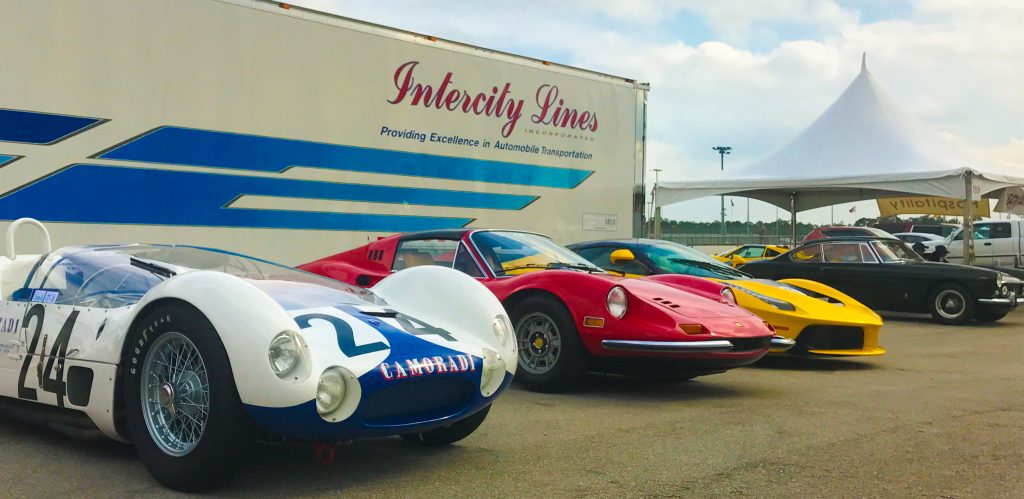 ---
Intercity Lines case study highlights how the specialized automotive transporter improved safety and operational efficiency of its 30-vehicle fleet using Samsara ELD and Per Diem Plus.
---
"The Per Diem Plus integration was a significant factor in our choosing Samsara over competing ELD solution providers."

Dean Wilson, Vice President
---
---
About:
Dave and Linda opened Intercity Lines, Inc. more than 40 years ago, setting out to provide excellence in enclosed automotive transportation. As a driver himself, Dave took great pride in the trust customers gave him when transporting what could be their most prized possession—their classic, historic, or exotic vehicles. Together, Dave and Linda brought attention to detail, dedication, and innovation to the enclosed automotive transportation industry.
The Challenge:
Improve safety and operational efficiency for the specialized automotive transporter and its 30-vehicle fleet using Samsara's complete fleet platform. Intercity deployed VG-series gateways, CM-series dash cams, Galaxy tablets, fuel, maintenance and per diem program. According to Dean Wilson, VP of Intercity Lines, "Per Diem Plus integrating directly into Samsara TMS was a significant factor in our choosing Samsara over competing ELD solution providers. The API was quick and easy to set up and run; it was a no-brainer. "
Reasons:
The 2017 Tax Cuts and Jobs Act eliminated the ability of employee drivers to claim per diem as a tax deduction on their individual income tax return.
The absence of a company-sponsored per diem program increased driver turnover and hampered recruiting.
Creating IRS-compliant contemporaneous per diem records from ELD back ups is immensely time consuming.
What Customer Needed:
An IRS-compliant mobile application platform solution that would allow for rapid deployment with minimal investment in dollars and IT resources.
Web services dashboard that would be easy-to-use for non-technical users.
Scalable, secure, cloud-based solution to meet the growing needs of their fleet.
Automated administration of a company-paid accountable per diem program.
The Per Diem Plus Solution:
"Per Diem Plus has a per diem solution regardless of what you use to track Hours of Service, while others offer limited solutions with limited partners," said Wilson. Jay Leno's favorite auto transport company is transitioning to the API from the PDP Fleets mobile app. Wilson cited the modern and intuitive web services dashboard, flexible report formats and ability to track per diem in the event the ELD goes down that distinguish Per Diem Plus. "Since introducing our driver per diem program in 2020 Intercity has achieved 85% driver participation, cut driver turnover to 10%, and saved over $3,000 per driver annually that was used to raise driver pay by several cents per mile. PDP's customer service is top-notch, allowing you to have a trusted partner to handle all your per diems needs. And we prefer the features and benefits of PDP offers," he said.
Per Diem Case Study Results:
The fleet is saving more than $3,000 per driver annually through reduced income and payroll taxes and workers compensation.
The tax-free per diem program increased Married drivers pay by 2.8 cents per mile and Single drivers pay by 4.2 cents per mile.
Achieved 85% driver participation.
Driver turnover is down to 10%.
API implemented in a single day.
---
The carrier was able to increase driver pay AND reduce expenses by implementing their per diem program with Per Diem Plus FLEETS.
---
Use our Fleet Per Diem Benefit Calculator to learn how much your fleet can save with Per Diem Plus Fleets.
---
Per Diem Plus FLEETS is a configurable mobile application enterprise platform that automates administration of an IRS-compliant accountable per diem plan for truck drivers and fleets managers. No matter how big or small your company is, Per Diem Plus has a solution for you.

---
Related articles
Use Per Diem to Raise Trucker Pay to Attract New Drivers
Implementing Per Diem Plus® FLEETS into Your Fleet to Ensure a Smooth Rollout
Raise Driver Take-Home Pay with Per Diem
---
Questions? Contact Mark W. Sullivan API Manager - Per Diem Plus Fleets Platform
About Per Diem Plus
Per Diem Plus was born over our 25 years of experience as agents and tax practitioners and a relentless pursuit to introduce efficiency to the time-consuming task of tax compliance for truck drivers, fleets and their accounting professionals. The Per Diem Plus® FLEETS platform enables motor carriers to easily implement an IRS-compliant fleet per diem program in hours that is scalable and data plan-friendly. Per Diem Plus was designed, developed and is managed in the USA and is the only IRS-compliant mobile application that provides automatic trucker per diem for solo and team drivers traveling in the United States and Canada. For more information, contact us at info@perdiemplus.com or visit www.perdiemplus.com
About Samsara
Samsara is the pioneer of the Connected Operations Cloud, which allows businesses that depend on physical operations to harness IoT (Internet of Things) data to develop actionable business insights and improve their operations. Samsara operates in North America and Europe and serves tens of thousands of customers across a wide range of industries including transportation, wholesale and retail trade, construction, field services, logistics, utilities and energy, government, healthcare and education, manufacturing, and food and beverage. The company's mission is to increase the safety, efficiency, and sustainability of the operations that power the global economy at www.samsara.com.
Copyright 2022 Per Diem Plus, LLC. Per Diem Plus proprietary software is the trademark of Per Diem Plus, LLC.®